By MAESTRO Angel Nuñez – His name is Wilfrido Nuñez but everyone got to call him Fido. He is perhaps the most mentioned name in San Pedro and even after his death, his name is mentioned daily by hundreds of locals and tourists when they say, "I'll meet you at Fido's".
Wilfrido Nuñez was born to Francisco Nuñez and Isabel Castillo Nuñez.  His siblings include Victoria Villanueva (+), Guadalupe Nuñez (+), Erdulfo Nuñez and Frank Nuñez.  Fido Nuñez's mom and dad as well as his brothers lived partly in San Pedro and later on in Belize City.  However, Fido was born in San Pedro and lived his entire life here. He is one of the few San Pedranos from the 1930's through 50's that did not grow up as a fisherman.
Fido continued the legacy of his father who operated a store. Having being married early to Fina Azueta Nuñez, he ran Fina's Store located at the corner of present day Fido's. That store was destroyed by Hurricane Hattie in 1961. During this time Fido was the Village chairman or alcalde, a position that gained him popularity and admiration. He was perhaps the very first San Pedrano appointed to be a Justice of the Peace.
As such Fido was involved and seen everywhere – beach cleanups, cemetery, pier and park repairs, visit of a government minister and area representative, visit of the British Governor, coronation of Miss San Pedro, among others. His peers and the elder population perhaps remember him as "El Carnavalista". This is how we call an organizer, activist and participant of the Carnival festivities. And believe me, Fido Nuñez was quite a humorist and extremely popular Carnavalista. 
In 1965 or thereabouts when tourism began to take roots, Fido Nuñez converted his store into a hotel and restaurant. He joined forces with other San Pedrano investors and formed the local chain of hotels known as Coral Beach Hotels. This group brought commercial flying to San Pedro as agents of the first local airline, Maya Airways. At the time Coral Beach sold flights to Belize City for $8.
It was after this that Fido added the courtyard to his hotel and the name Fido's became a trademark in San Pedro. Right beside the hotel on the beach, a huge palapa with bar and spacious entertainment center was built. Fido's son, Wilfido Nuñez Jr. popularly known as Will, entertained tourists and locals with guitar and harmonica as part of Will and the Islanders, and later Will and the Tequila Trio.
First Justice of the Peace, early hotelier, but there was another first for this entrepreneur. Fido Nuñez brought about the first cinema, Teatro Arenas, for San Pedro back in the 1960's offering mostly Spanish movies three times per week with matinees on Sundays. This family owned cinema was a most welcome amenity for San Pedro until Fido decided to retire and passed it on to his daughter who relocated the building where Jaguars Temple Night Club is presently located.(same building stands) Teatro Arenas kept on going until the the 1980's when cable television was brought to San Pedro and the cinema had a natural death. Thereon it became Jaguar's. 
Fido owned a sizable parcel of land on North Ambergris Caye and made it his ranch until the time of his passing. It is no wonder that he was a very popular man in his days and continues to be a popular name even today. His contributions to San Pedro are acknowledged and appreciated. Whereas King Midas everything he touched became gold, everything Fido touched became a success. A legacy to Fido Nuñez, Fido's continues to be a success and thus the name Fido is one of San Pedro's most used name.
Do we need a street named in his honor?
Click Here for More Chronicles of San Pedro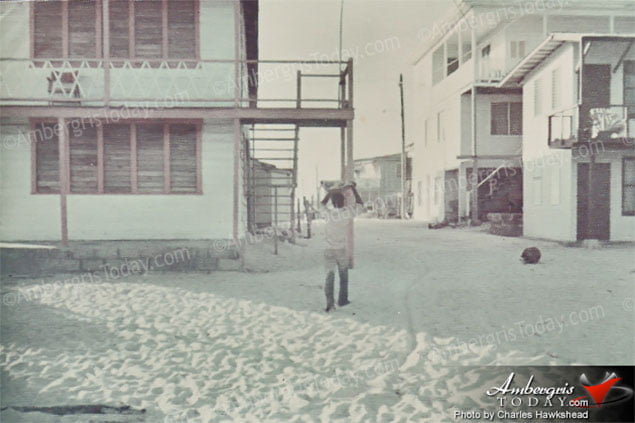 Flashback Pictures of Fido's:
The Famous Fido's of Ambergris Caye
Fido's – A Beautiful Spot in San Pedro