– by Angel Nunez – The island of Ambergris Caye was auctioned on the 13th of September 1869 and the successful bidder at $625.00 was James Hume Blake, a British magistrate of  the Corozal District. The only land exempted from the sale was a lot given for the purpose of building a Roman Catholic Church in the village of San Pedro. At this time the village was inhabited by several Mestizo families who had fled from the Caste War in Yucatan and settled in the village which they named San Pedro. 
  
The property given to the Catholic Church was left unoccupied for many years until early in the 1900's some village men began this labor of love and unity. It is known that in 1905 James Howell Blake II built his mansion that lived to be over 100 years old and popularly known as Blake House (The site is now occupied by Heritage Bank).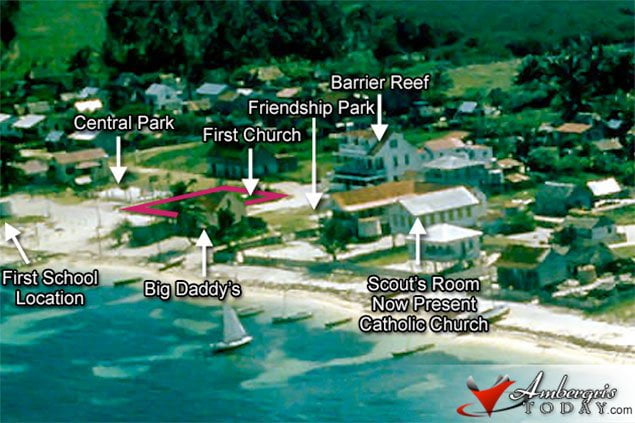 Who built the first church is unknown, but shortly after the Blake House it is said that the villagers did so. The Blake's helped with its construction since they were a very fervent Catholic family.  It was a concrete building, beautiful and outstanding among the thatch houses in the village. The Roman Catholic Church had an uninterrupted view o f the Caribbean Sea and was the pride of San Pedro. It was this same Caribbean Sea that destroyed the church in the 1942 Hurricane. 
In1985 Mayor Gilberto Gomez and the Town Council Council decided to preserve the memory of this church by erecting a lovely water fountain depicting the history of the Mayas and Mestizos who built the first church in San Pedro. It was a magnificent piece of concrete sculpture carved out by famous local artist, Edwardo "Papo" Alamilla. Unfortunately it was removed to make way for the present day Central Park plans.
There is a big looming question still. Who does that vacated church property belong to? The R.C. Church or The Town Council? However the villagers of San Pedro would not have it without a church and by 1949, or thereabout, they had built with the help of Papa Blake and is lovely wife Elena Blake Alamilla a brand new church.
This one was built on a lot also owned by the Blake's. It was an all wooden structure with verandah all around. Because Papa Bake had a daughter who was a nun, he also added a U-shaped building which served for the nuns' vacation home on the island complete with dormitory, kitchen and dining room. Even though it was a property for the nuns and the Catholic Church, it was also used by the Belize Scout during their summer vacations and in time it was popularly known as the Scout Room.
This new parish was visited by Father Franco, a Mexican/Belizean and by Father Robert Raszkowski (pictured left) who gave his life of service to this Catholic community for over 50 years. Hundreds of baptisms, confirmations, weddings and even funerals were officiated in this church. The San Pedro Musical Band played their hearts out on the verandah for the Good Friday rituals and mass. 
Then came Hurricane Hattie in 1961 and demolished the entire beach of San Pedro. The church and nuns' quarters were saved but damaged badly. For two long years the building served as the Catholic school. At this point Father Raszkowski commenced with his dream of a new concrete church. Plans were drawn and the community began with fund raising – fairs, food sales, carnival dances – everyone wanted to contribute because it was Father's wish that no money be accepted from foreigners.
After the ground-breaking, it took many years and the construction advanced very slowly, sometimes disappointingly slow. It was not until 1977 that our majestic and pride of San Pedro was completed.  San Pedro was joyful that Father Raszkowski was alive to see its completion and be able to enjoy it for many years. After his passing changes, additions and improvements have been brought about by Father Jesus Riverol, Father Jim,  Father Paul, Father Dan Nunez, Father Anonuevo and Fathers Scott and David. This helps to prove that San Pedro has always been considered a Catholic community as it still is.