After traveling to Roatan, Honduras, on Tropic Air's inaugural flight on November 13, 2013, and posting a little glimpse into my travels, adventures, dining and accommodations, the feedback from family, friends, readers of Ambergris Today Online and my followers on Facebook, as well as other social media outlets, has been tremendous. They not only want to know more about Roatan, but also about my personal experiences on the island.
Tropic Air's non-stop service between Roatan, Honduras, and Belize City's Phillip Goldson International Airport is an excellent addition to the airline's existing international flights to neighboring countries around Central America and Mexico. Tropic Air's other international routes include Cancun (Mexico), Flores (Guatemala) and San Pedro Sula (Honduras) in addition to its 11 domestic destinations within Belize.
Views from Tropic Air's direct flight from Belize Intl' Airport to Roatan, Honduras
The airline is doing a phenomenal job at providing excellent service and connections to destinations within the country, and now the region, which is making Belize more accessible to travelers. Passengers are able to connect to and from the many multi-daily non-stop international flights that Belize City has to offer (Los Angeles, New York, Dallas, Charlotte, Houston, Miami, and Atlanta among others).
For me, this was an excellent way to kick start my travels within the region as I try to branch off to bigger things with work and also taking more personal leisure time. Heck! Most of my vacations have only been to the US and Mexico. It's about time for me to start exploring south of the border and our neighboring Central American counties like Honduras, Guatemala and El Salvador, all of which are perfect vacation spots and provide connections to other Central and South American countries.
Conversations that I have had with Tropic Air personnel have indicated that their Roatan flight is already a big success, launching with positive numbers. The inaugural flight was fully booked. Tropic Air's Belize connection with Roatan, Honduras, opens up other opportunities for the tourism market as hotels from both destinations can reap the benefits by partnering up for great vacation packages. I can tell you that the business people we talked to in Roatan are very happy with the convenient new connection.
I now know that I have new options for my travels as I take off to explore other corners of the world, some of which are right in my backyard.  Tropic Air has been my airline of choice in all my travels – they have the customer service, the safety record, convenience and ahh yes, the magnificent views that you don't normally get from those large commercial aircrafts. See 6 Reasons to Fly Tropic Air between Belize and Roatan
The new service is bookable via the web at www.tropicair.com or via e-mail at reservations@tropicair.com, by phone at (501) 226-2012, by contacting any of their stations, or your friendly travel professional.
Want to learn more about Roatan and planning a great vacation on the island? Follow the hashtag #TropicRoatan on Facebook, Twitter, Instagram, and Pinterest for upcoming posts and articles.
Enjoying the accommodations at Las Verandas Villas in Roatan, Honduras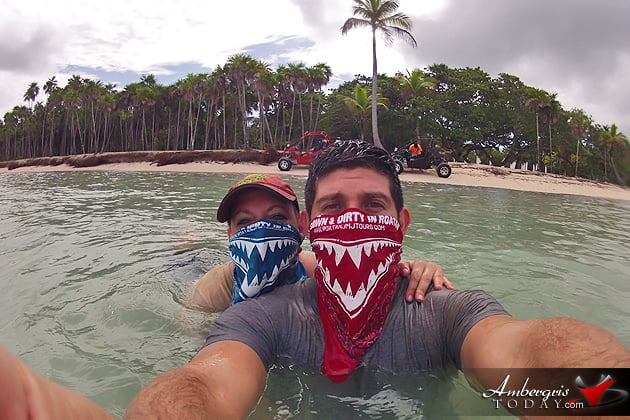 Fun-filled day exploring the Roatan island and partaking in adrenaline activities
Click Here for More Editorial Blog Posts on Ambergris Today Online