Friday, February 17, 2012 marked the nominations for standard bearers running for the General Elections which will be held the same day as Municipal Elections, March 7, 2012.  The San Pedro Town Council Nominations were held on Wednesday, February 15, 2012, and today, Belize Rural South Standard Bearers were nominated.
The People's United Party Blue Wave was the first political party to hit the streets of San Pedro Town at 10:30 a.m. At the end of the day all three political parties and their supporters will have headed to the Town Council to officially nominate their candidate who will be running for seat at the General Elections on March 7, 2012. Officiating the nominations were members of the Election and Boundaries office.
The following is the list of nominators along with the candidates:
PUP Standard Bearer: *Ana Patricia "Patty" Arceo
Nominators:
– Baldemar Graniel
– Oscar Aguilar
– Dona Maria Badillo
– Earl Smith
– Albert Dunin
– Aljemiro "Milo" Paz
---
VIP Belize Rural South Standard Bearer -Robert "Bobby" Lopez
Nominators:
– Cesario Rivero
– Virginio Henkis
– Stephen Alexander Manuel
– Francisco Badillo
– Hilberto Sanchez
– Socorro Carolina Kumul
---
Independent Standard Bearer: *William "Mike" Campbell
* The issue with Mr. Campbell's dual citizenship was clarified during his nomination this morning; something that was just recently brought to attention. Campbell did his research and duly noted that being a British National does not interfere with his running for a government position in the House of Representatives. Under the laws of the country, all commonwealth nationals are allowed to run for government.
Nominators:
– Orlando Guerrero
– Hector Trejo
– Steve Bowen
– Fitzgerald Brown
– Patrick Stiley
– Alex Halliday
---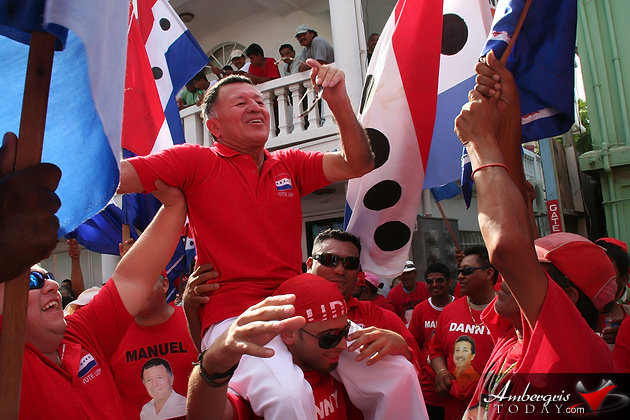 UDP Standard Bearer: *Manuel Heredia Jr.
Nominators:
– Joseph Elijio
– Lisa Marie McCorkle
– Claudio Azueta
– Maria Elsa Paz
– Erico Cirilo Novelo Jr.
– Fernando Sosa