Overnight tourist arrivals keep demonstrating a steady increase as the second quarter of 2012 comes to an end. Belize's Tourism Industry has seen outstanding record-breaking months during the first half of 2012.  The BTB is honored to share that the first half of the year is ending on an admirable note with an exciting 9% increase in Overnight arrivals compared to last year. The good news does not end there, as tourist arrivals and airport arrivals are expected to continue their remarkable growth.  
With these stimulating figures, the BTB looks forward to sharing good news for the remainder of 2012.  The following is a detailed report with the first half of this year's tourism figures:
Total Overnight Tourist Arrivals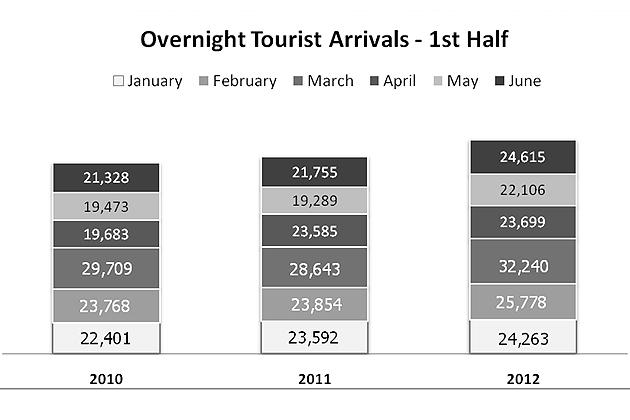 An overall increase of 9% in overnight tourist arrivals was recorded during the second quarter of 2012.  A total of 5,791 more tourists stayed in the country overnight during the second quarter when compared to the second quarter of 2011.
January started with an arousing arrival number of 24,263 visitors to Belize. This represented a 2.9% increase over last year's figure.  February's figure totaled an astounding 25,778 visitors, which represents a 8.1% increase over 2011's figure. March was the month that blew us all away with its history-making total of 32,240 visitors. Never before had Belize's overnight tourist arrival numbers exceeded 32,000 visitors in any one month!
March's success is truly outstanding, because the closest runner-up to this was in March 2007, when Mother Nature's Best Kept Secret hosted 31,267 visitors.  
As can be seen in Figure 1, April's 2012 figure of 23,699 surpassed the 2011 figure of 23,585.  While April showed an increase, the month of May worked its way up to an overwhelming 14.6% growth over its 2011 counterpart, making this month a record breaking high month.  The month of June did not disappoint, with a 13.1% increase over last year's recorded figure. Taking another look at Figure 1, it is clear to see that June 2012 had a total of 24,615 visitors, trumping last year's figure of 21,755.
Airport Arrivals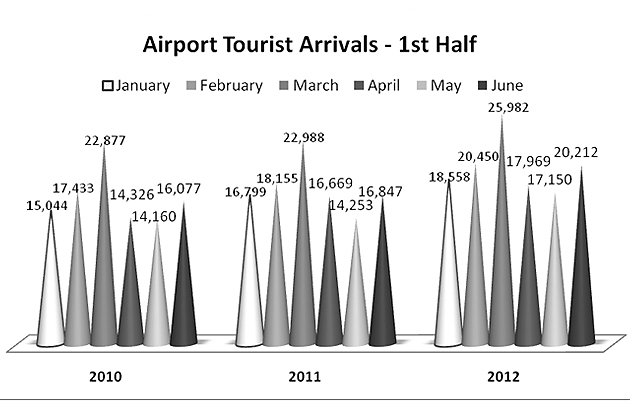 Overall, there was a 13.8% increase in airport tourist arrivals through the first half of 2012, which indicates very strong growth despite going into the slow season of the tourism calendar.
In January 2012, there were a record number of airport tourist arrivals, which totaled 18,558 visitors.  This represented a 10.47% increase in arrivals in January, which was immediately followed by a record high in arrivals for the month of February.  In fact, February saw 20,450 overnight visitors through the airport.  This was a 12.6% increase over February last year.  
The consistent growth continued in March, which saw 25,982 visitors; a figure which surpassed the March 2007 arrival record of 25,195 visitors.  
April 2012 welcomed a total of 17,969 visitors, which was a 7.8% increase when compared to April 2011. This represented a difference of 1,300 airport arrivals.
May was a record-breaking month with a total of 17,150 visitors through the airport.  This figure represented an overwhelming 20.3% increase over the previous year.  This converts to 2900 more overnight arrivals in Belize than that of last year.  The month of June only continues the trend as the 20% increase overshadowed the 16,847 figure of last year.  A very pleasant 3,365 more tourists arrived this June at the airport than in June 2011.  
Cruise Arrivals
There have been consecutive increases in cruise arrival numbers from November 2011 to January 2012. In January 2012 Belize boasted 86,128 cruise visitors, representing a 34.9% increase. This is a total of 22,293 more visitors compared to last year at that time. In February 2012, there were 70,711 cruise visitors which was an increase of 13,847 cruise passengers.  
During March, April, May and June of 2012, the cruise industry saw a decrease in Cruise Arrivals. Cumulatively, a 5.9% decrease in tourist arrivals has been recorded for the first half of 2012, compared to the figures of the same period in 2011. This decline is attributed to the fact that during the tourist season there are 7 ships stopping in Belize, and as the tourist season slowly tapers off, there has only been 1 ship providing tourists to Belize.
Overall, there was a 13.8% increase in overall arrivals through the first half of 2012, which indicates very strong growth despite going into the slow season of the tourism calendar. In all, Belize's tourism industry is showing remarkable signs of growth and it continues to set new records during 2012.