On Tuesday, October 16, 2012, San Pedro Police detained four minors in connection with the death of male person who died while receiving treatment at the Karl Heusner Memorial Hospital after having been attacked and beaten and left along the beach in San Pedro Town. Police reports are that the minors were jointly charged for manslaughter by a Senior Justice of the Peace on Thursday, October 18, 2012, in San Pedro.
Because the boys are all minors, their names cannot be released. Three of them are 14 years old while the fourth is 15 years old. The Senior Justice of the Peace has remanded the boys to Hattieville Prison in the mainland until they can be formally arraigned before a magistrate.
Reports are that 46-year-old, Emerito Itza along with 24-year-old Marwin Lizama were out socializing on Wednesday, October 10, 2012, on the beach side when they were attacked by a group of young men where it is alleged that a young man picked up a piece of wood and hit both men on the head.
Upon arrival to the scene Police observed both men lying on the ground and Itza was in an unconscious state. Both men were taken to the Dr. Otto Rodriguez Poly Clinic II for treatment and were later released. The following morning Police, along with a doctor, made a follow up check up on Itza and he was found in an unconscious state and was immediately transported to the KHMH for further treatment.
Itza succumbed to his injuries on Tuesday, October 16, 2012, while receiving medical treatment at the KHMH in Belize City. Since then San Pedro Police initiated a criminal investigation and detained four minors in connection to the incident.
Emerito Itza, a former teacher and BDF soldier of Succotz Village leaves behind a grieving wife and four children.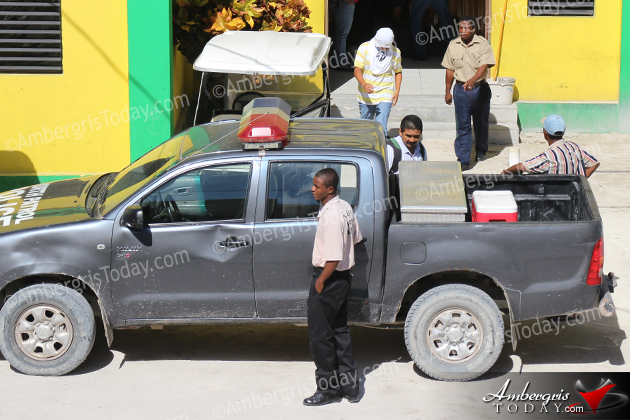 Minors charged for manslaughter were transported from SP Police Department to Belize City
Friends and family outside the Police Station cannot contain their emotions as the minors leave for Belize City