They are loyal followers of Jerry Jeff Walker, who is set to give two concerts during his Belize Camp 2013 taking place from January 20 to February 3, 2013, in San Pedro, Belize. But even before Jerry Jeff Walker sets foot on stage for his main events, his fans have already started the party in San Pedro in what is known as Pickin' Parties.
His fans enjoy their own pickin' parties during the two-week long camp event, gathering on the beach, under a palapa, on a boat dock or at local bar/pub establishment to pick and sing and have fun. Ambergris Today caught up with Mar Deuce of Tampa, Florida who was hosting her own Open Mic Pickin' Party at Lola's Pup on Tuesday, January 22, 2013.
Mar Deuce was eager to show off her Dale Wallace original ukulele, hand made in San Pedro, Belize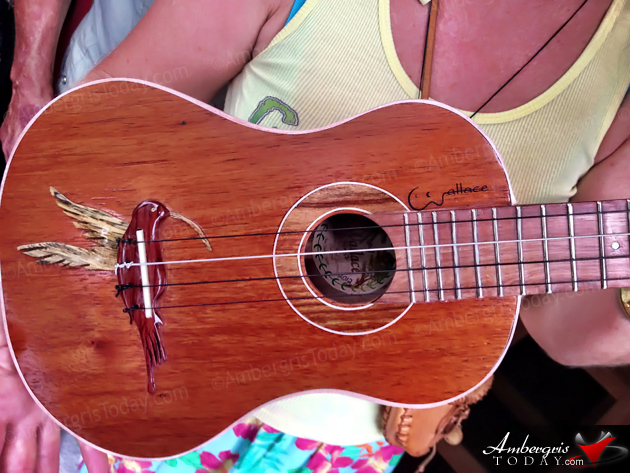 Mar Deuce has been visiting Belize for 18 years now and her group, Friends for Life, has been getting together to have fun, play music and enjoy life in gatherings at Houston, Oklahoma, Tampa and Belize. Besides having so much fun during Jerry Jeff Walker's Camp Belize events, the group has been gathering to encourage people of all ages to learn to play musical instruments. During the past two years the group has donated over $30,000 to charity organizations.
On Thursday, January 24, there will be an all ladies' pickin' party held at Lola's Pub once again.
Loyal followers of Jerry Jeff Walker invade San Pedro, Ambergris Caye for music, scuba diving, snorkeling, fishing, rum punch, Belikin Beer and quality beach time. Jerry Jeff's shows are the only planned activities for the two weeks. Other nights and every day, his fans have the freedom to plan their own down time or whatever adventure they desire in Belize.