Belize Medical Outreach – Pediatrician Day at Poly Clinic
Friends of Pediatrics of Belize held its Belize Medical Outreach from Sunday, March 17 to Thursday, March 21, 2013 providing free pediatric checkups in public health community centers in rural areas of Belize and La Isla Bonita.
A team of eight pediatricians, one pediatric neurologist, four medical students and one leader organizer provided medical services to areas such as Crooked Tree, Trinidad Village, Guinea Grass Village, Hattieville and San Pedro. The Clinic was organized by the nongovernmental organization Friends of Pediatrics and a visiting team of physicians from the Children's Hospital of the King's Daughters in Virginia. President of Friends of Pediatrics, Dr Cecilio Eck, says there is always a need for referral clinic especially in underserved areas, so the visit of the volunteers was most welcomed.
Friends of Pediatrics (FOP) is a registered Non-Governmental Organization which was founded in 1998, by Belizean Doctor Egbert Grinage, to assist underprivileged Belizean children with obtaining tertiary healthcare.
---
San Pedro Health Fair Held over Weekend
The Ministry of Health held its annual health fair on Saturday, March 23, 2013, at the San Pedro Lions Den. The fair ran from 10a.m. to 3p.m. with free medical services for the public which included glucose checks, BMI checks, dental checkups, HIV testing, blood pressure testing, blood count, and other medical consultations.
Groups that were present included the Belize Red Cross San Pedro Branch, The National AIDS Commission, Belize Diabetics Association San Pedro Branch, National Drug Abuse Control Council (NDACC), San Pedro Cancer Society and a newly formed group – The Belizean Down Syndrome Society. (For more information on this newly formed group contact Dalia Alamilla at 663-3287 or Paul Vasquez at 633-4291)
---

Meet the New Medical Director of the Dr. Otto Rodriguez Polyclinic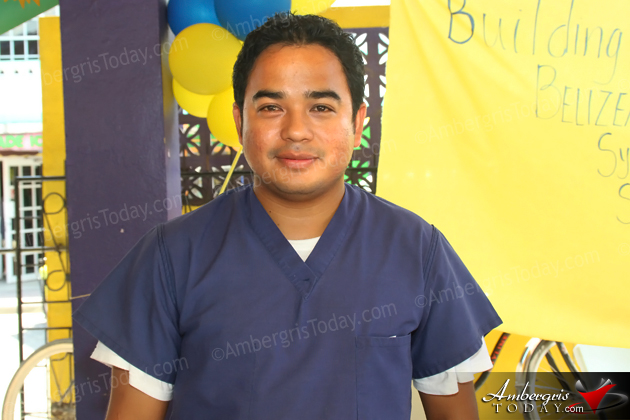 Dr. Jerry Lanza
The Dr. Otto Rodriguez Poly Clinic has a new medical director, Dr. Jerry Lanza who was assigned to work on the island. His official duties commenced on Wednesday, March 13, 2013.
"I am glad to be here in San Pedro," stated Dr. Lanza. "I look forward to working with my medical staff to provide the highest quality of health care to all the residents of San Pedro." Dr. Lanza is originally from Belize City and is now in charge of the medical staff at the Dr. Otto Rodriguez Poly Clinic.
The medical staff of the Poly Clinic consists of seven nurses and four doctors; Dr. Laurenzo Nicholson, Dr. Noely Nicholson, Dr. Giovanni Solorzano and Dr. Jerry Lanza.
On behalf of the community of San Pedro, Ambergris Today takes this opportunity to welcome Dr. Jerry Lanza to La Isla Bonita.