The Isla Bonita All Star Marching Band proudly represented San Pedro at the Governor General's annual Marching Bandfest held in the capital city of Belmopan on Saturday, March 22, 2013.
The team of some 20 drummers and 20 majorettes had been rehearsing since November of last year for this grand occasion and they showcased their talent in drumming and dancing on a four-mile parade route consisting of 14 marching bands. Marching bands from all over the country of Belize then performed an individual show at the football stadium in front of a huge crowd of fans and spectators.  
A very committed and energetic committee formed the steering group and ensured that the San Pedro All Star Band and majorettes had brand new instruments of snare drums and basses as well as custom-made uniforms in Chetumal which included from shoes to hats, gloves, pants, shirts, skirts, and suits which made the children and teenagers look totally bright and sharp.
Winning was not their goal since it was their first appearance among other bands who are as much as nine years old. They were looking for exposure and the experience of participating.  However, music teacher and personality Carlos Perrote of Cuba complimented the Isla Bonita Stars as "putting on a great performance".  The Islanders received many accolades from the citizens all over the country who lined the entire parade route and cheered during their show at the stadium.
Taking the 50-member band to Belmopan included, apart from instruments and uniforms, providing water taxi, bus transport, a nurse and first aid team, support vehicles, sleeping quarters, 7 meals for 65 persons, transport for rehearsals, and over 100 hundred hours of fundraising by the artists and committee members themselves.
Committee members Ana Cal, Sandra Ayuso, Perlita Zapata, Angel Nunez, Eve Dirnback, Maria Castillo, and Maiela Rosalez surpassed many odds and took the band from scratch to a high level of professionalism in just five months.  They in turn extend sincere appreciation to the many sponsors and patrons including Mayor Daniel Guerrero and the San Pedro Town Council, Hon. Manuel Heredia Jr., Pedro Salazar, Mr. Glen Wilson, Randy Lewis, Captain Sharks, Wayo's Bar, Locals Restaurant, Crazy Kanucks, Captain Morgan's, Sand Bar, Bistro Mestizo, Miss Eve's Committee, Nurse Natalie, Ms Sharon Hazel, Beautician Laura Gutierrez, and many other friends who made personal contributions.
Congratulations to all the participating bands of Bandfest 2013! You put on an awesome performance!
Most Popular Marching Band- Corozal Community College
Best Uniform – Belmopan Active Youths (BAY)
Best Choreographed Band – Corozal Community College
Drum Corp Winners:
1st Place: Holy Redeemer Marching Band
2nd Place: Delille Academy
3rd. Place: Belmopan Active Youths
Marching Band with Wind Instrument
1st Place: Corozal Community College Marching Band
2nd Place: Benque Viejo Marching Band
3rd. Place: Succotz Festival Drum Corp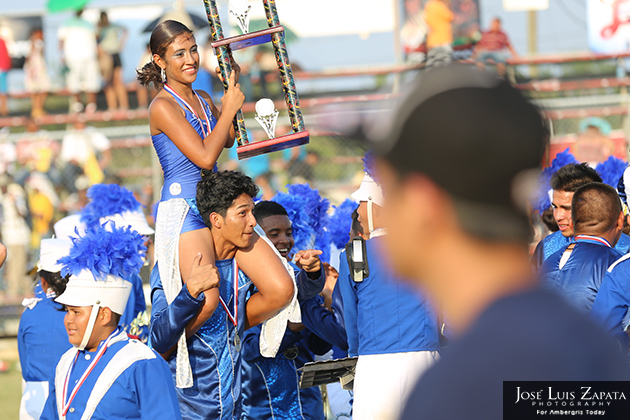 Winner of Bandfest Corozal Community College