On Thursday, August 15, 2013, a total of 19 teams showed up in downtown San Pedro for what was to be Belize's largest ever fly-fishing tournament – The Tres Pescados Slam Tournament.  Currently in its 5th year, anglers were competing for cash prizes, giveaways and the coveted grand slam title.
Day one saw cloudy and dreary skies as a tropical depression moved towards the Yucatan, but anglers remained optimistic. In the end teams prevailed and both bonefish and tarpon were landed in the tough conditions. Pesca con Mosca and team Big E took top honors both racking up 575 points. Last year's third place team Anglers Abroad was a close second at 300. Daniel Smith, the tournaments youngest angler at 14 was in a tie for 3rd with his team the Holiday Strikers.
The start of day two saw similar conditions to the previous day's fishing. By midday the skies cleared up and the fishing improved drastically. The top teams were still fighting for those top three spots. The first permit of the tournament was landed, but in the end all teams were still looking for that grand slam fish.
The final day of competition saw beautiful weather and the trophies were up for grabs. As expected, several teams came in with that final fish for their grand slam and it would go down to the wire. Excitement was clearly visible at the Holiday Hotel venue, but anglers would have to wait for final results at the awards banquet later that evening.
The tournament raised $12,000BZ for the newly formed CARLOS MARIN FOUNDATION in Belize. These funds will be used locally in Belize to benefit the bonefish, permit and tarpon fisheries, their habitats and the protection of both. On hand for the awards banquet were all our teams as well as many of our sponsors and friends. Thank you to all of them for making this event a huge success for sport fishing in Belize.
2013 Tres Pescados Slam Tournament Final Standings:
1st Place – Pesca con Mosca 1550 pts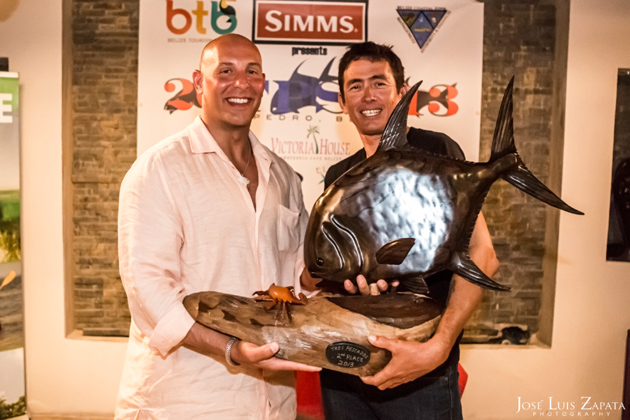 2nd Place – Big E Flats 1325 pts
3rd Place – Fin Addicts 675 pts
Top Guide – Cesar Acosta
Fish Count:
88 Bonefish
4 Permit
7 Tarpon
3 Grand Slams
Presenting Sponsors:
Simms Fishing Products, Belize Tourism Board and Coastal Zone Management

Platinum:
Costa, Victoria House and Marelco

Gold:
Belizefly.com, Scott Fly Rods, El Pescador and Fly Treks

Silver:
Yellow Dog Fly Fishing, Anglers Abroad, Holiday Hotel and Redhouse
 
*Dates for next year will be July 24th – 26th, 2014