Rain, rain and more rain! That's what we have been getting and a lot too! There's water everywhere; streets and yards get flooded making the daily commute to work and school from home a disaster to many. Now to make things worst residents at the Escalante Subdivision had to face a stinky and unhealthy situation over the weekend.
Residents of Escalante Subdivision were complaining that there seemed to be a sewer leak in the area and with all the heavy rains over the weekend the streets flooded and seemed to be contaminated with fecal matter and the stench was unbearable to many in the area. This problem persisted into the week and residents made their complaints on the morning show and to media houses.
"Evidently there was/has been a sewage leak, starting in the Escalante Area and bubbling up onto the street adjacent to the Sugar Caye entrance for days.  It may have been finally stopped yesterday.  Unbelievably, I was not informed by anyone and learned through the rumor mill.  This river of e-coli discharged into the lagoon within yards of the wells used to supply the Island's drinking water.  Fortunately, bacteria cannot survive our treatment process unless something goes wrong, and nothing went wrong,'" stated the Manager of Consolidated Waters Belize, Dee Dillon, in a letter sent to the media.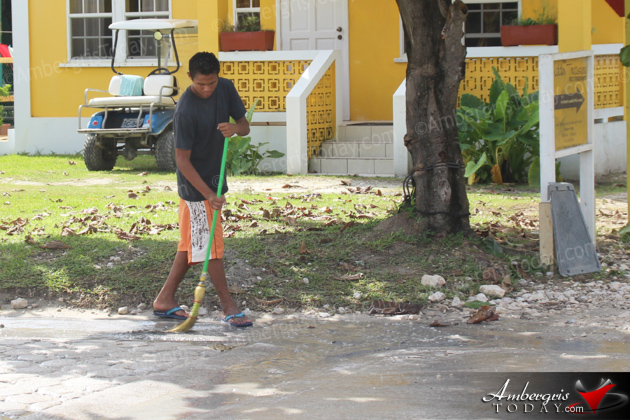 Ambergris Today contacted Belize Water Services Limited in Belize City about the situation and stated the following in a press release:
"Belize Water Services Ltd. (BWS) has been made aware of concerns from San Pedro regarding a sewer overflow. BWS was made aware of this situation on Sunday and dispatched a crew immediately to the affected location. Our investigations revealed that this was caused by the collapse of a man hole which caused blockage of the pipeline resulting in some seepage on the street in the Escalante Area.  The blockage and overflow was immediately cleared and the area disinfected and the crew has diligently continued works to ensure the repair of the damaged sewer man hole.
San Pedro residents should note that this isolated problem poses no danger to the potable water supply to the citizenry of the Island. It is unfortunate that faults do occur from time to time; however, the sewerage system is designed with overflow bypasses to prevent or minimize such overflows.
BWS apologizes to those affected by this incident. BWS' mission is to provide high quality water and wastewater service to customers. This includes ensuring a quick response in remedial works. BWS assures all our customers and consumers in San Pedro that we are prepared to respond in a timely and professional manner whenever the needs arise."