On Wednesday, March 25, 2020, Belize welcomed 32 members of the "Henry Reeve" International Contingent of Cuban Health Professionals who are specialised to assist in times of disaster and pandemics. The team of health professionals arrived in Belize to support the country's response to the COVID-19 global pandemic. They were received by Hon. Pablo Marin, Minister of Health; Mrs. Lizette Perez Perez, Ambassador of the Republic of Cuba to Belize; and Lou-Anne Burns Martínez, Chief Executive Officer, Ministry of Foreign Affairs of Belize.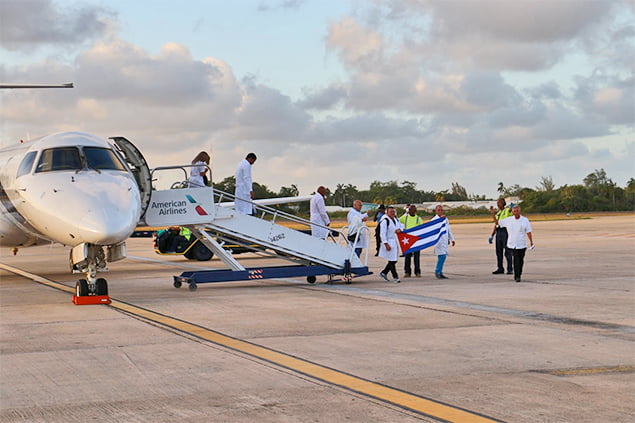 Minister Marin took the opportunity to thank President Miguel Mario Díaz-Canel Bermúdez, the medical professionals, and especially the Cuban people for supporting Belize as a part of their efforts worldwide to limit the spread and effect of the virus. Additionally, a second group of 28 Cuban medical professionals will arrive in Belize today, Thursday, March 26, 2020. Both of these special contingents will join the Cuban Medical Collaborators who are already serving in Belize.
The government says that Belize recognizes the exceptional efforts of Cuba over the last 60 years in consistently providing medical and technical assistance in times of public health emergencies, such as the Ebola virus and now the COVID-19 virus. Belize commends Cuba's efforts to provide immediate relief to others, even as they face an unjust economic blockade that severely impacts the supplies of medicines, goods, and services within Cuba. Cuba continues to demonstrate its commitment to extending help, wherever possible, to those in need.
Belize and Cuba are celebrating 25 years of diplomatic relations. The two countries share a special bilateral relationship founded on deep respect and admiration for the significant role Cuba has played in the region and globally. For 38 years, the Cuban Medical Collaborators in Belize have continued to forge the late Fidel Castro Ruz's humanist principle of providing quality medical care worldwide, especially to those most vulnerable and in need.