In March 1999, a group of compassionate individuals in Ambergris Caye embarked on a mission to create a haven for the animals of their community. Little did they know that their dream would lead to a 24-year journey of love, compassion, and unwavering dedication. Today, Saga Humane Society is excited to share a glimpse of what all that hard work has led to – the construction of a new, safer shelter for San Pedro's beloved animals.
A Dream Takes Shape: Saga Humane Society's journey began with a simple yet profound dream – to provide a safe and beautiful space for the animals of Ambergris Caye. Over the years, this dream has evolved into a beacon of hope and a testament to what a dedicated community can achieve.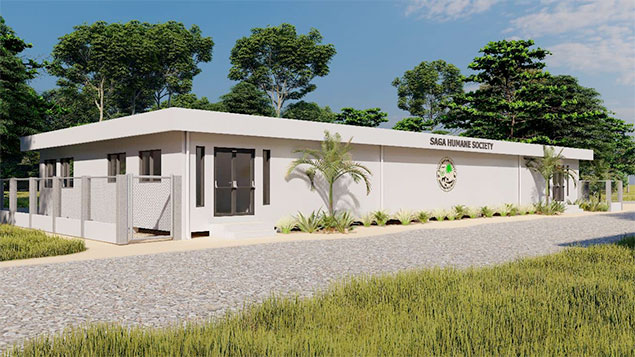 The new shelter Saga is building isn't just about bricks and mortar. It's a monumental achievement that symbolizes years of hard work, determination, and an unshakeable commitment to animal welfare. It represents the countless lives that have been touched, the animals rescued, and the families brought together through adoption.
Saga Humane Society invites the community to be a part of this incredible journey as they watch their dream take shape. The new shelter will be a testament to what a caring community can achieve when they come together for a common cause. Now, more than ever, Saga needs your support to make this dream come true. Every donation, no matter how big or small, brings them one step closer to their goal. By supporting Saga, you are directly contributing to the welfare of the animals in our community.
Stay Updated and Donate: Want to see the progress on the new shelter? Head over to Saga's website [https://www.sagahumanesociety.com/new-shelter or https://www.sagahumanesociety.com/donate], where you can stay up to date with the latest developments plus you can make donations towards the project. They are currently in the process of building the dog kennels, and the shelter construction is set to begin in the coming weeks.
Saga is always immensely grateful for the support the community, visitors and friends have extended to the and can't wait to see their dream become a reality. Together, we are making a difference in the lives of animals in San Pedro, and we invite you to stick with them to witness the incredible progress they are making. Thank you for being a part of Saga's journey towards a brighter future for our beloved animals.
Click Here for More on Ambergris Today Online