This exciting journalistic adventure commenced in September of 1991 an idea of Bruce and  Victoria Collins of the San Pedro Sun and, Yours Truly, Angel Nunez, who had recently moved to live in San Pablo to become the third resident of the community. The objective of the column was to educate the new generation and new residents of life on Ambergris  Caye to include social, economic, cultural, historical, folkloric, political, as well as industries, successes and failures, and other events in the annals of San Pedro.
Hundreds upon hundreds of weekly articles have been written for the past 25 years, most of them educating and stirring interest, whilst a few have generated disbelief and one or two have even created controversy and criticism.  
One example of a controversial article was entitled "Twenty five years ago in San Pedro, women did not drink and did not frequent bars". This article drew acid criticism from one or two women who took offense because the cap fit snugly on their heads. They criticized the author of being anti-women. I only explained that I had a wife and a mother and could not possibly be anti-women but simply wrote about an observation on how some women carried themselves.  
An article that was met with disbelief was entitled "That Delicious Manatee". My story dealt with the fact that in the 1950's, 60's and maybe part of the 70's the meat of the manatee was a delicacy on the San Pedro dining tables.
An article that drew me compliments even from Sir Colville Young, Governor General of Belize dealt with the use of the "kis kis". The kis kis is a pair of thongs made with a flexible branch of a local tree. It was used to handle hot coal and hot objects on the fogon (fire hearth). The governor pointed out to me in a congratulatory letter that in other parts of Belize it was used to grab land crabs which are another delicacy for the Belizean table. Soon thereafter I was honored by the Governor General with a medal  of M B E., Member of the British Empire for my contributions to education and culture in San Pedro.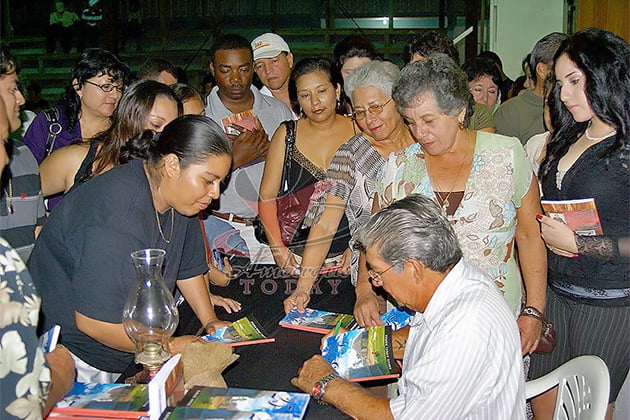 25 Years Ago Author/Columnist launched his book in December 2008
The column Twenty Five Years Ago has gone on for 25 years now with almost uninterrupted weekly articles and little repetition. My weekly column moved onto Ambergris Today when my son opened his newspaper business in 1999. Some topics have beßen repeated with a different twist.
What can I say? My column has gained me tons of friends. The articles have given me lots of personal satisfaction, earned me one or two enemies and most importantly, they have led me to love my San Pedro even more. I have done a lot of research and therefore have added to my knowledge allowing me to sell my beloved San Pedro to other people who have also gotten to appreciate the old Village of San Pedro, and the new San Pedro Town.
Thank you all for reading Twenty Five Years Ago and for being a part of San Pedro, Ambergris Caye, Belize.
Click Here for More 25 Years Ago Articles
---
25 Years Ago Books Can Be Purchased At:
-Ambergris Today Online Newspaper -Jose Luis Zapata Photography –Lala's Store -Pampered Paws -San Pedro BTB Office -S.P. Town Library -Di Bush, A & R
Contact the Author at: nunez_nest@yahoo.com