Very little has been said about the northernmost tip of Ambergris Caye, the area known as Bacalar Chico. Let me begin by saying that many years back some locals had the misconception that this area was part of Mexico and not part of Belize.
You see, this piece of land is separated from Mexico by a very narrow canal, also erroneously called a river. The canal was called El Rio de Bacalar Chico and it was believed that this river belonged to Mexico, thus the conception that Bacalar Chico (the land) was Mexican territory.
Let us pause a moment to look a bit more at Bacalar Chico, the river.
There is the allegation that this canal was/is a man-made canal dug by the Maya who were looking for a way to navigate by canoe from the Bahia de Chetumal (Bay of Chetumal)  to the Caribbean Sea for the purpose of fishing and trading.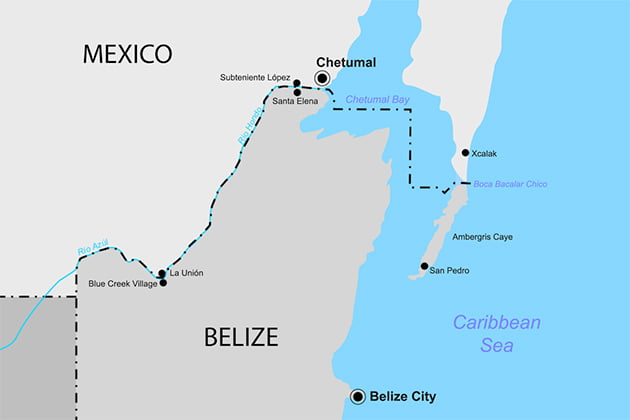 On the other hand there is the allegation that the canal was/is a natural waterway created by the forces of some hurricane in our long past. In the case of the former, the Maya separated us from Mexico. In the case of the latter or second allegation, a hurricane separated us from Mexico.  (Another story will follow on how and when Mexico donated Ambergris Caye to Belize)
Now back to Bacalar Chico, the Land. This stretch of land was a large coconut plantation belonging to several locals either from San Pedro or Belize City. One of them is the Franco family. Father Franco had two brothers, Carlos and Roque Franco and one sister, Maria Franco all of whom lived at Bacalar Chico. They owned a large coconut plantation and sold coconuts in Belize City and also exported "copra" or dried coconuts to the United States.
Coconut farming was a lucrative industry on Ambergris Caye. The plantation owners hired locals to live on site and work the land. Their job was to re-plant coconut pants, clean the land, collect coconuts, peel or husk them, and put the produce in the boat. The Franco's had a big boat named the Forum  which was used to transport coconuts.
Another family that had land and operated similar program at Bacalar Chico is the Hoy Family, owners of Hoy Estate. Then there was  the Bill Heusner Estate, the  Perdomo Estate, and the Walter Hood Estate. There was another boat called the Argonaut, which I recall mentioned by my grandfather who was a coconut farmer. According to a published article by George Parham (RIP) these persons received these parcels of land as gifts from the owner of Ambergris Caye, Maria Exalacion de Andrade.
And this my friends is as close as we can get to the interesting issue of Bacalar Chico, the northernmost tip of Ambergris Caye.

Property Distribution on Ambergris Caye "in the beginning". Click map to enlarge
Click Here for More 25 Years Ago Articles
---
For More Information on 25 Years Ago Books Contact the Author at: nunez_nest@yahoo.com