Hey there, rum enthusiasts and fellow aficionados of all things Belizean! This past weekend, I had the delightful opportunity to join the launch party of Travellers Liquors' brand-new creation – Ruta Maya Belizean Rums. Let me tell you, it was nothing short of a tropical dream at Wine de Vine where the event was hosted. Picture this: sipping on exquisite rum samples while enjoying a perfectly hosted event by the wonderful staff of the wine shoppe.
Now, if you've spent any time in Belize, you probably know that Travellers Liquors is a name synonymous with premium spirits. They've received their fair share of international awards for their fine rums, and this new line is right up there with the best they've ever crafted.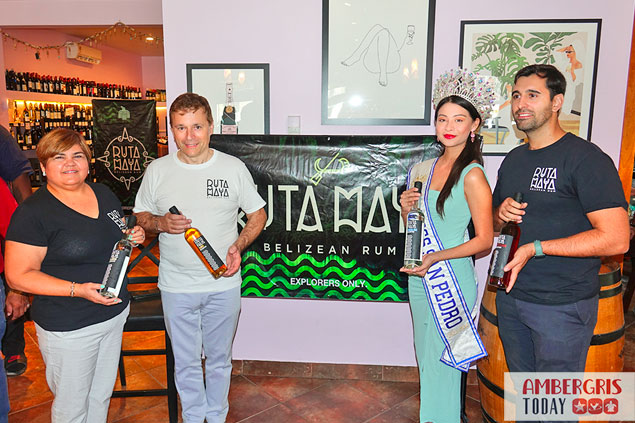 Olivier Scaramucci, CEO, and Danilo Tersigni, COO of Boutique Brands Ltd. with Perla Perdomo, Executive Chairperson of Travellers Liquors and Mariel Calderon, Miss San Pedro 2023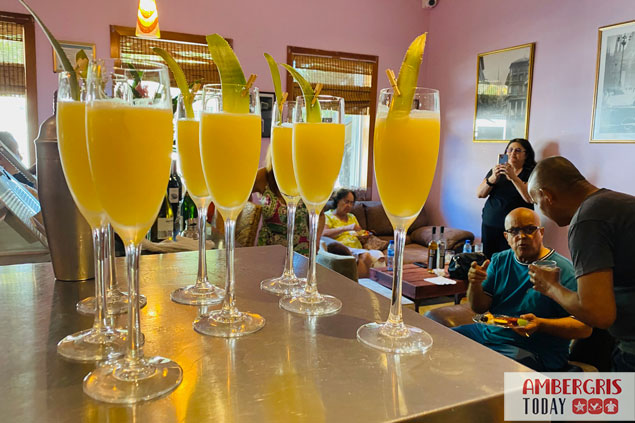 So, what's the scoop on these new Ruta Maya Rums? Unlike your typical liqueurs, these are infused rums. As a coffee lover, my heart skipped a beat when I tried the Coffee Rum. They served it with tonic water, which I must admit was intriguing, but boy, was it delicious! Sipping it neat was like enjoying a fine liqueur. Oh, and the Cocolime? They served it with soda water and even in a mimosa-like pina colada. Pure tropical bliss!
Perla Perdomo, the Executive Chairperson of Travellers Liquors, shared, "These rums aren't just about taste. They encapsulate Belizean authenticity. The ingredients are locally-sourced, with the coffee being a premium high-altitude bean roasted right here in Belize."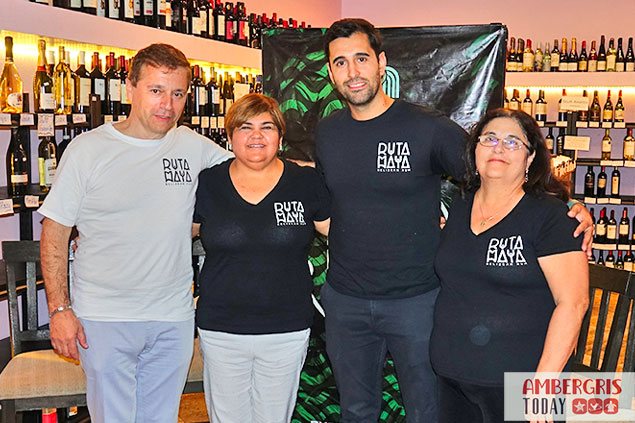 Perdomo sister Perla and Magali with Olivier and Danilo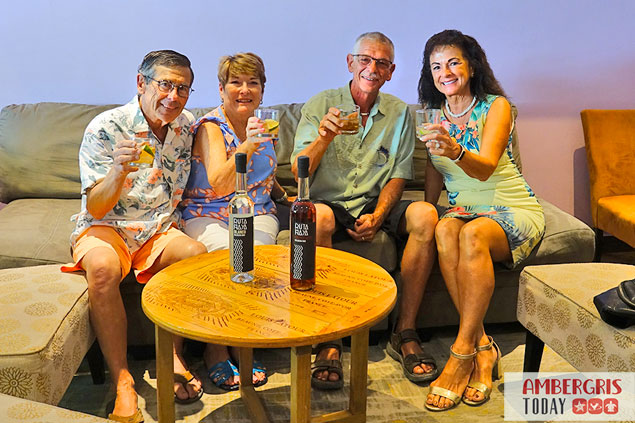 The journey of these new flavors wasn't a walk in the park either. Travellers collaborated with UK-based distribution company Boutique Brands Ltd. to bring this tropical delight to life. Chatting with Olivier Scaramucci, CEO, and Danilo Tersigni, COO, I discovered it took them a whopping eight years to perfect these flavors after meeting with Perla in London. They even spilled the beans (or should I say coffee) that it took six days of soaking to get that perfect coffee infusion.
The name 'Ruta Maya' isn't just catchy; it's a tribute to Belize's rich heritage, inspired by the forward-thinking Mayan civilization. Plus, it's named after a renowned rowing race. Talk about adding a touch of adventure to your drink!
And here's the cherry on top: Ruta Maya Rum isn't just about drinking; it's about giving back too. A part of its profits is dedicated to safeguarding the rivers, waterways, and the precious biodiversity of Belize. This brand actively supports and contributes to the preservation of the country's natural treasures. Sipping with a purpose, now that's something I can get behind.
1. Ouro Rum: It's a three-year aged rum, 100% natural, with flavors straight from the cask. You can expect an exquisite blend of light hints of butterscotch and charcoal, all topped off with a refreshing citrus fruit finish.
2. Blanco Rum: This one's a blend of Travellers white rums at different levels of distillation. It's a very clean spirit with subtle sweetness, velvety smoothness, and a delightful hint of citrus. Perfect for sipping on a lazy afternoon.
3. CocoLime: Crafted with local coconut from small Belizean processors and natural lime from the citrus factory, it's a tropical delight. You'll find flavors from lightly toasted creamy coconut, fresh lime zest, artisanal pressed coconut, double-filtered light rum, and natural sugar cane syrup. It's like a sip of paradise.
4. Coffee Rum: Infused with coffee roasted right here in Belize, this one's a showstopper. It's deep, intense, and boasts a buttery smooth finish. Perfect for those who crave a little kick with their coffee.
So, there you have it – Ruta Maya Rums by Travellers Liquors, a journey through Belize's rich heritage, one sip at a time. Cheers to new adventures in every bottle!