Did You Know…..The loggerhead sea turtle has a low reproductive rate; females lay an average of four egg clutches and then become quiescent, producing no eggs for two to three years. The Loggerheads are considered an endangered species and are protected by the International Union for the Conservation of Nature.
Here in our beautiful Caribbean Sea we are blessed to have the Loggerhead Turtle as well as the Hawksbill and Green Turtles; all of which are protected. Sadly there are many times when these beautiful marine creatures get stranded or hurt out at sea. Almost all of the sea turtle rehabilitation that has taken place in Belize has been at the Fisheries Department's Hol Chan Marine Reserve office on San Pedro, Ambergris Caye under the care of Fisheries Biologist Kirah Forman.
When sea turtles are initially found stranded, they are kept under close watch at the Hol Chan Marine Reserve office where they have access to veterinary care and treatment. If the turtle is large and must be kept under observation for a period of time prior to release they are transported to Bacalar Chico Marine Reserve where they are kept in a fish pen.
On Tuesday, May 13, 2014, Dorian's Angels were out at Hol Chan Marine Reserve along with their staff to witness the release of two female loggerhead turtles as part of Reef Week. "Ellen" and "Lucky" were two turtles being rehabilitated under the Ambergris Caye Marine Turtle Project.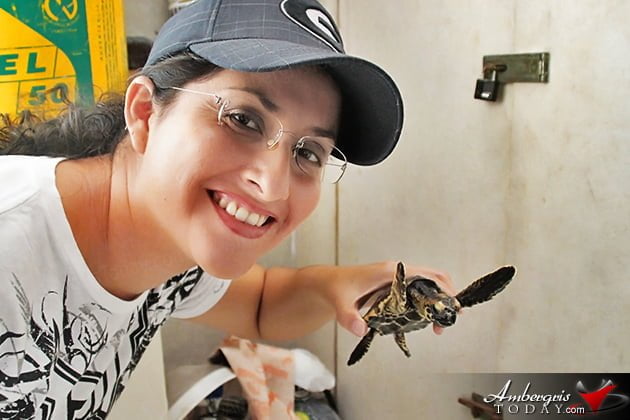 "Lucky" the Turtle
Lucky is one very 'lucky' turtle as she was rescued by the staff of Tuff E Nuff Tours on Wednesday, October 9, 2013, on the way back from a dive trip by Belizean Shores Area in San Pedro. The turtle was suffering from injuries caused by a shark attack and was immediately rushed to the Saga Humane Society to receive urgent medical attention.
Lucky was missing its left hind flipper and had several lacerations on its other flippers, as well as a broken plastron (the part of a turtle's shell forming its underside). The turtle was placed on an antibiotic treatment in order to prevent infection and regular cleaning of her wounds was necessary for a full recovery. Lucky was placed under observation at the Hol Chan Marine Office and later transported for full rehabilitation at the Bacalar Chico Marine Reserve.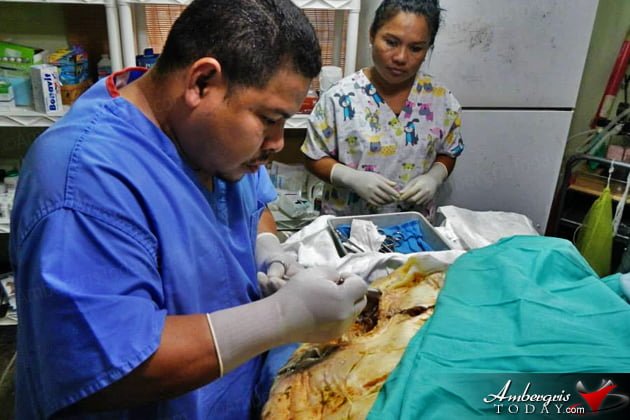 Dr. Orlando Baptist and Ingrid from Saga Humane Society treating "Lucky" the Loggerhead Sea Turtle
"Ellen" the Turtle
Ellen was found stranded in a stretch of beach in the Placencia Peninsula on Saturday, February 22, 2014, by a tourist. The turtle was severely dehydrated and in poor physical condition. Authorities were called on scene and the turtle was transported to Belize City; later to San Pedro as part of the Ambergris Caye Marine Turtle Project to be rehabilitated at the Hol Chan Marine Office.
Upon its arrival to San Pedro, Biologist and staff of Hol Chan Marine Reserve observed that the turtle had no physical damages and it was believed that it had internal damage. After X-rays were performed it was learnt that a foreign object was lodged in the turtle's intestine and was causing a severe infection.
Veterinarian Orlando Baptist of Saga Humane Society treated Ellen with a series of vitamins, saline drips for hydration and dextrose (a form of glucose) and was then placed under observation to ensure its full rehabilitation at the office of Hol Chan Marine Reserve under the care of Kirah Foreman and Javier Bardalez.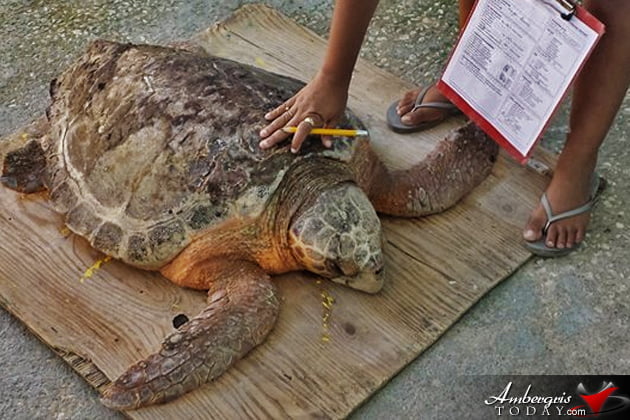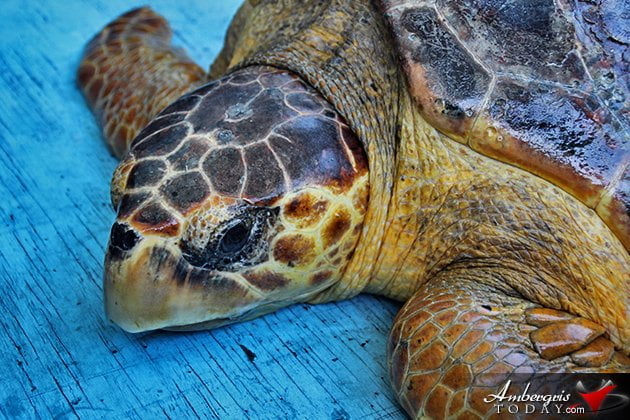 Both Ellen and Lucky were release back to sea and it was a very special day as Maxi Ariel Valdez, Tour guide of Tuff E Nuff tours was on hand to release the same turtle he had rescued seven months ago.
Hol Chan Marine Reserve launched the Ambergris Caye Marine Turtle Project which is a research initiative to document current turtle nesting patterns and behavior; marine turtle density in the surrounding waters of the island; document turtle strandings and rehabilitates injured turtles; assess threats and implement conservation initiatives.
The Ambergris Caye Marine Turtle Project is managed and implemented by marine biologists that work on the marine protected areas of Ambergris Caye. The project started in 2007 by formalizing and recording marine turtle stranding data and rehabilitation. In 2009 Turtle nesting monitoring and research was initiated on the beaches of North Ambergris Caye. In 2011 in-water turtle density surveys were conducted.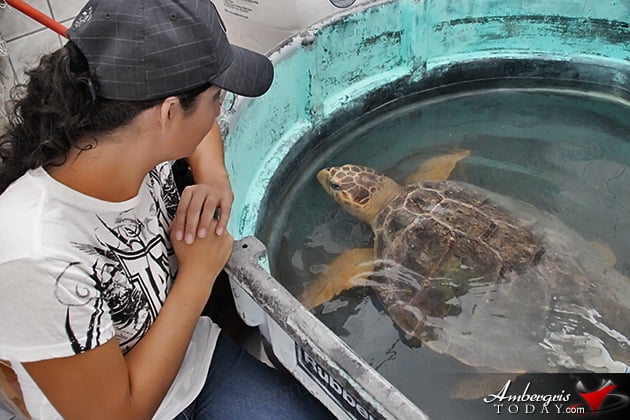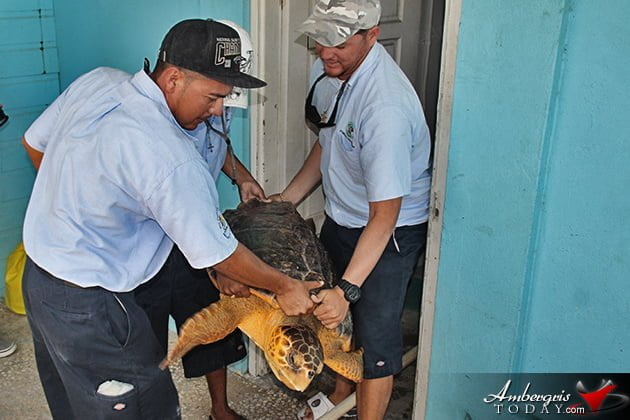 Perlita and Kathy Marin from Saga Hume Society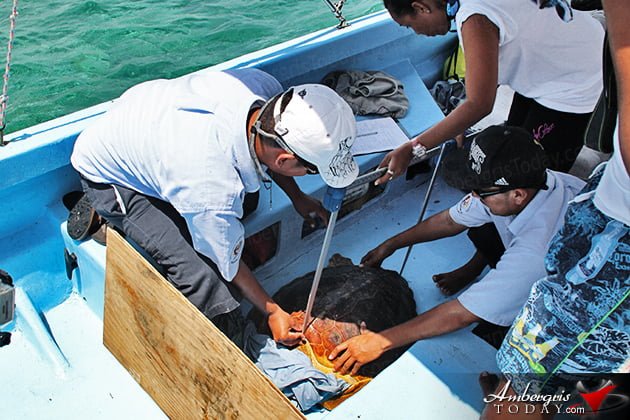 Fisheries Biologist Kirah Forman measuring, and tagging "Ellen" and "Lucky" before they were released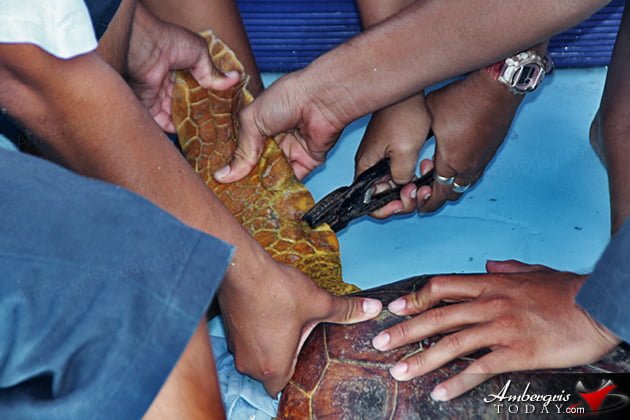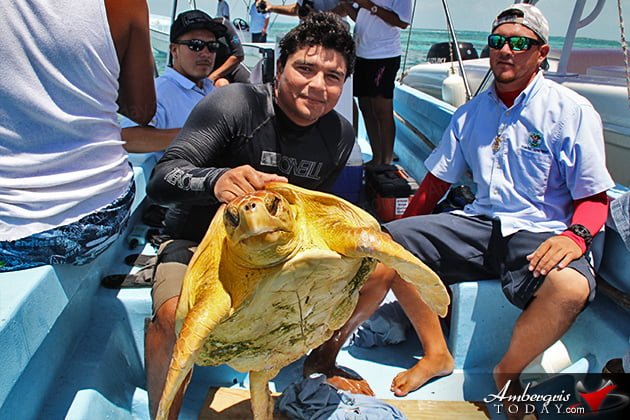 Maxi Ariel Valdez, Tour guide of Tuff E Nuff tours, was on hand to release "Lucky" the same Loggerhead Sea Turtle he had rescued seven months ago
"Ellen" The Loggerhead Sea Turtle
---
Facebook Page: Ambergris Caye Marine Turtle Project
Facebook Page: Hol Chan Marine Reserve
Website: Hol Chan Marine Reserve