"Have a little fun in the shower" is the slogan of the brand new (super cool) store on the island named Belizean Breezes Soap Co.  The novelty store carries a huge variety of 100% percent all natural handmade, eco-friendly, good-for-your-skin-soap!
Located on Barrier Reef Drive near the Belize Bank, sits this aromatic, cool, eco-friendly soap shop that you must visit. Get ready to be surprised and amazed by their huge variety of hand poured soaps from single bars to full loaves, soap cakes, sea gems, shaving soaps, loofah soaps and hanging shower soap scrubby bags.
Proud owner Lynda Perdue commented to Ambergris Today, "If you have dry or sensitive skin or just want to pamper yourself in the shower, this is the store for you. Educate yourself about your skin and make bath time much more fun. Our handmade soaps never use any chemicals, animal products or bi-products, alcohol or any brew of anything bad for your skin. Our ingredients are simple: coconut oil, olive oil, argan oil, safflower oil, shea butter, oatmeal in our oatmeal soap, distilled water and natural fragrances."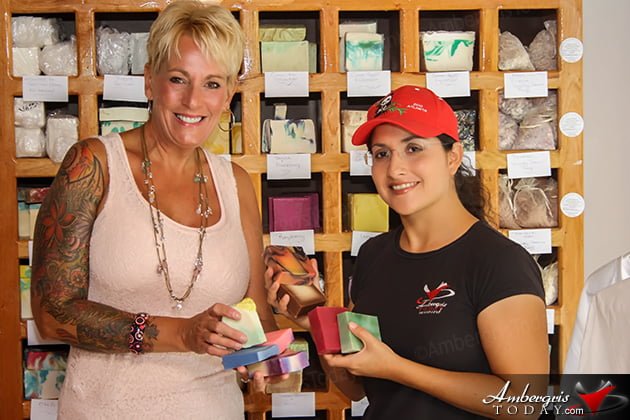 Fact: Your skin is the largest living organ of your body. Most don't realize the importance of skin; therefore daily washing using chemicals that are penetrating your skin are not good for your body. When you consider the fact that our skin absorbs up to 80% of what you put on it, toxic (and unnecessary) additives can be easily absorbed into the blood stream and bio-accumulates in the body where they influence your immune system and overall health.
This good for your skin store caters to the entire family and is perfect for souvenirs, birthdays and much more. Belizean Breezes also opens its doors to anyone who is operating a rental or resort and would love to make their guests stay extra special with their products. There are so many scents and special combinations and they change all the time, that's half the fun! To give you an idea here is a list of a few soap essences: oatmeal, oatmeal and almond, fresh lemon, lemon and lime, mango and papaya, ocean mist, island palms, bamboo, lemongrass and kiwi, black linen and amber, sandalwood, coconut kraze, fresh raspberry, lavender and mint, strawberry, lemon, lime and much more.
Get this – there are 150 different soap scents at Belizean Breezes. The store also offers beautiful customized silver jewelry for fashionistas who want to look fabulous on a night out in the town.
Feel free to drop on by and say hello to Lynda who is very friendly; or give her a call at 671-2025. And don't forget, if Dorian's Angels recommend it – It's Gotta Be GOOD!!!
Facebook Page: facebook.com/Belizeanbreezes
Website: belizeanbreezes.com