A  very energetic, vociferous and most of all confident crowd of P U P supporters and friends gathered under the Giant Blue Flag all eager to know and meet with the P U P Blue Team that will contest the next Town Council Elections on March 2012. Master of Ceremonies Mr. Rene Guzman welcomed the gathering and P U P Chairman Milo Paz proceeded to introduce the candidates.  
The Chairman said that the process did not happen overnight since, with 17 applications for candidacy, including three for the Mayoral Candidacy, there was careful planning, selection, scrutinizing, and most of all evaluations to guarantee a hard working Blue Team, not only work to win the election but most important work to uplift San Pedro that really deserves better. In short this is the Executive Committee appraisal of the candidates: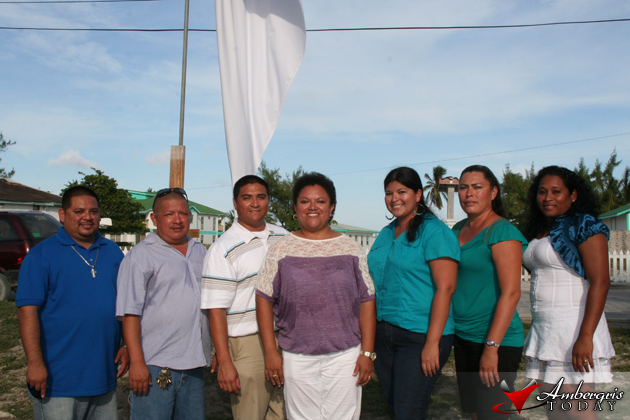 Conchita Valdez Flota: (Mayoral Candidate) Well educated, a humble servant, respectable, and with a Bachelor's Degree in Business and Managerial Skill.
Vianie Perez:  Always active, always involved in Service, Aids Commission Activist, friendly and easily approachable
Maribel Vasquez:  Businesswoman with energy, born in Corozal but now a true Sanpedrana due to her involvement. Singlehandedly has transferred over fifty voters to this constituency.
David Aguilar:  Involved in music and culture; a man committed to his responsibilities and can guarantee 100% service and duty.  He has tremendous listening abilities and PR gained as front desk clerk at Ramon's Village.
Mundo Nuñez:  A businessman for some 20 years, knows the meaning of responsibility, accountability, and job creation. Now an entrepreneur, responsible family man following the footsteps of his father, Chato Nuñez, who served the town board with distinction.
Wally Nunez, Jr.:  Has dreamed of being in the town Board for some ten years. Has offered himself to service but turned down due to his youthful age. He is not looking for a job for he has a good one (Tropic Air Pilot), but has a passion for service.    
Marina Graniel Kay:  A professional for life in the field of education and a proven leader, cultural activist and carnival enthusiast.  Has lived a life of service and is currently president of the Lions Club.  Comes from a family of service; her father being a proud past Mayor.
Milo Paz thanked all the candidates for accepting the challenge to uplift San Pedro to make it safer, better and more inclusive in progress for all. He welcomed them in joining the Blue Team which he believes will be a winning team, not only for the P U P but for San Pedro.  
Patty Arceo, Standard Bearer for Belize Rural South, was presented to address the gathering. It was said that she holds a very envious report card of service and worthy projects in only one term of office.  She has been resting for close to ten years and was asked by unanimous support to return to Belmopan in 2013 to look after the interests and needs of San Pedro.  She said she is humbly honored to be asked to represent San Pedro once more and said she will do so by listening to the people, their needs, their desires and aspirations.
Snacks, refreshments and beers were served to everyone and the P U P Executive thanked everyone for their support and solidarity. The general feeling and spirit is that this will be a victory not only for the PUP but for San Pedro and all its wonderful people who reside on Ambergris Caye.