The Belize Red Cross Society is a member of the International Federation of Red Cross Red Crescent Societies (IFRC). Their goal is to alleviate human suffering wherever it is found by mobilizing the power of humanity. And now the Belize Red Cross will have a branch here in San Pedro.
On Saturday, March 3, 2012, Director General of the Belize Red Cross Lily Bowman, along with a group of members of the BRC, were in San Pedro for the first community information session and volunteer registration which took place at the Banana Beach Resort.
A total of nine island resident registered to become Red Cross members and volunteers and according to Bowman the response from the island has been encouraging. Their first priority is to implement their disaster introduction project which will build the capacity of volunteers to become trained first responders in the event of a disaster.
During the information session, Bowman and her staff provided those present with information about the Belize Red Cross, its Code of Conduct, programs, strategies and plans. The BRC SP Branch has secured an office space which is located on the ground floor of the Island Galleria on the corner of Coconut Drive and Tarpon Street.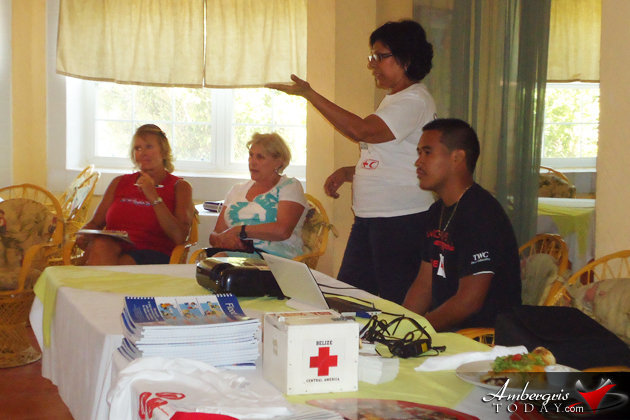 Director General Lily Bowman addressing those present during the information session
Laurie Norton will be in charge of the San Pedro Branch anyone wishing to join the BRC SP Branch or for more information on the society can contact her at 600-0837 or email: tacogirlbelize@gmail.com.