The Belize Tourism Expo 2012 was officially opened on Wednesday, April 25, 2012, attracting an audience of approximately 300 – 350 local and international tourism professionals and international press representatives to Belize to see what the country has to offer. The opening ceremony took place at the Belize House of Culture. Guests at the opening ceremony enjoyed Traditional Marimba music, along with other cultural performances by the Maya Center Museum Dance Group.



BETEX is the showcase where resort owners, tour operators and service providers share one space to market their products and packages directly to vendors in the U.S and European markets. Based on the strength of what they see firsthand in Belize, they will sell it to visitors. It's a simple enough formula, but not always an easy sell. BETEX transferred The Queen and King Rooms at Belize's Princess Hotel and Casino into a marketplace, but there was no fruit or vegetables for sale-only tourism packages.
BETEX is organized by the Belize Tourism Industry Association. "We've invited these foreign travels agents, wholesalers, and press people to come to Belize and see the different products, feel the culture, taste the food, and enjoy the various environments," commented Jim Scott, board member of the BTIA, "Part of our membership is small business and we can't always afford to go abroad and promote our business so by us bringing those agents and wholesalers here, we are able to showcase our products and give them a real live, in person tour and introduction to Belize."
BETEX opened its doors to the general public on Thursday, April 26, after the official ribbon cutting by BTIA President Jim Scott and Minister of Tourism, Honorable Manuel Heredia. Visitors got a chance to view the wonderful display of the booths and what Belize has to offer.  On the show case there were many booths from all over Belize. Many businesses from San Pedro made themselves present at BETEX this year for example; Tropic Air, Banana Beach Resort, Ramon's Village, Sun Breeze, Portofino, Victoria House, Banyan Bay Villas and Xanadu, just to mention a few.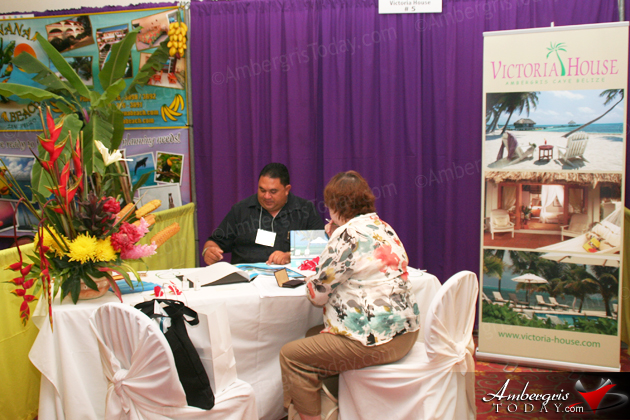 Victoria House Booth at the Belize Tourism Expo 2012 -BETEX Trade Show
Cayo Espanto Booth at the Belize Tourism Expo 2012 -BETEX Trade Show
Chan Chich Booth at the Belize Tourism Expo 2012 -BETEX Trade Show
Other businesses from around Belize that were present were; The Lodge at Big Falls, Chaa Creek, Discovery Expeditions, Hatchet Caye Resort, Hamanasi, Programme for Belize, San Ignacio Resort and Hidden Valley Reosrt to mention a few.
The day concluded with a colossal Evening Caribbean Cocktail party on the beach at Sunbreeze Hotel (Blue Water Grill) in San Pedro, Ambergris Caye.