The San Pedro Town Council is keeping its word of having a cleaner San Pedro. It first embarked on a Earth Day cleanup campaign in April where residents were asked to take out all their garbage on the street sides for the council to clear. Now, specific areas on the island are being targeted for cleanup.
On Monday, May 7, 2012, an official cleanup campaign put together by the Town Council commenced with a 12-man team targeting the San Pedrito Area. Ambergris Today met with Mayor Danny Guerrero and councilors in San Pedrito where they gave us a personal tour of the area and explained in detail what their plans for the area are.
"The cleanup campaign will target all areas of the island but it starts in the San Pedrito Area," stated Mayor Guerrero. "As the rainy season approaches we thought it would be best to commence work in the San Pedrito Area since we believe it is one of the areas that is most inconvenienced during the rainy season, especially the children who need to commute to go to school."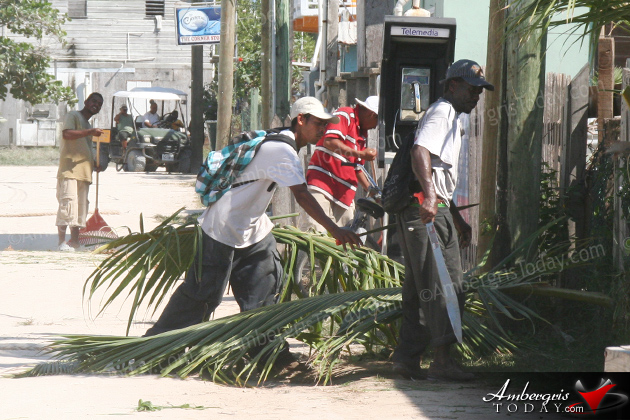 Cutting down overgrown trees
According to Mayor Guerrero the group of men, which were hired for the cleanup campaign, will be in charge of cutting the grass along the street side, cutting overgrown trees and picking up all garbage along the street side. Then they will proceed to the Elliot Subdivision, DFC Area, San Pablo, San Marcos and moving on to the northern side of town.
"Here, specifically in San Pedrito, we will be opening all designated roads of the area to facilitate proper traffic flow and easier access for residents to commute on their daily routines," stated Mayor Guerrero. "There is a lot of work that needs to be done in this area and we are primarily targeting the streets, we will be placing hard core and sand to fill up the street just in time for the upcoming rainy season."
All Designated Streets will be Opened
Mayor Guerrero also mentioned that they will be working in making a boulevard in the area with proper lighting and trees will also be planted for beautification; including an additional park in the near future.
Residents of the area are being asked to help maintain the area as clean as possible and to practice proper disposal of garbage. The San Pedro Town Council also asks residents to remove all garbage receptacles from the street side and place it in their own property.
Let us all work hand in hand for a cleaner and more beautiful San Pedro.