The National Institute of Culture and History, through the Institute of Creative Arts has been holding Artists in Development Consultation Tour around the country which made its way to San Pedro, Ambergris Caye on Friday, June 22, 2012. The purpose of the tour is to organize, represent and help with the promotion of Belizean artist in a national, and most importantly, an international level.
Present at the meeting, that was held at the San Pedro Lions Den, were representatives from the Institute of Creative Arts (ICA), Belize Audio Visual Industry Association (BAVIA), Music Industry Association of Belize (MIAB) and Belize Society of Composter Authors and Publishers (BSCAP). The group invited local artists (singers, songwriters, promoters, painters, carvers) to let them know what they are doing to support them and the importance of being a member of an association that will build a stronger industry out of the arts in Belize.
Local artists in San Pedro attend consultation tour
The consultation tour focused to stress to the Belizean artists that the country has the potential of creating an industry that would be beneficial for them and the country to establish representation and protection of their work in both the local and international arena. The first thing that artist in any particular field need to do is become members of an association, be it the music industry, visual arts, etc, is  to come together under one body to create strength and unity for the industry of the arts to be recognized.
Development of a music industry and the coming together of a visual arts group are the main interests of the Institute of Creative Arts and the National Institute of Culture and History (NICH) to focus on the development of music and training of artists. The first step is to create an artist registry in order to bring artist together, to commence a certification program and also create an identity for all artists.
This artist development program is already creating steps towards this industry in the arts for Belize by providing assistance in starting up careers, protecting their work with copyrights, providing seminars and working on directing artists to properly standardize and structure their works at international levels which will make them instantly recognizable, a position where Belize is not at the moment.
Those in attendance at the meeting received important information to help them kick start all these processes and extended them a helping hand towards the resources they need to improve their careers as artists in Belize.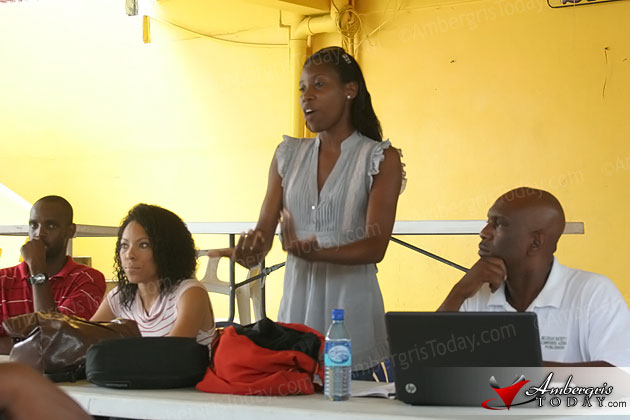 Jackie Castillo from the Institute of Creative Arts conducts seminar
Below are four major contacts for more information:
1. Music Industry Association of Belize (MIAB)
Ivan Duran, President
Email: ivan@stonetreerecords.com
Website: www.belizemusic.org
2. Belize Audio Visual Industry Association
Xavier Molina, President
Email: baviabelize@gmail.com
Website: www.bavia.bz
Facebook: www.facebook.com/BAVIA

3. Belize Society of Composers Authors and Publishers (BSCAP)
Jason Guerrero, Board Chairman
Email: info@bscap.bz
Website: www.bscap.bz
Facebook: www.facebook.com/bscap
4. Institute of Creative Arts
NICH
Email: ica@nichbelize.org
Website: www.nichbelize.org
Facebook: www.facebook.com/instituteofcreativearts