"Turn Me On" says the San Pedro International Costa Maya Festival as it confirms the participation of Caribbean Soca superstar Kevin Lyttle for Friday, August 3, 2012 at the festival that will run from August 2 to the 5, 2012.
The Costa Maya Festival committee wants to please all generations of music lovers and decided to bring in two international artists for this year's festivities. Kevin Lyttle will light up the stage on Friday while Los Pasteles Verdes have been confirmed for the following night, Saturday, August 4, 2012.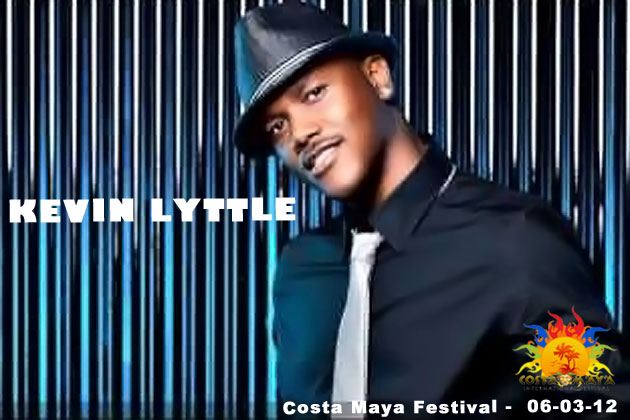 Kevin Lyttle is a soca artist hailing from Saint Vincent and the Grenadines, who had a worldwide monster hit with the addictive soca ballad "Turn Me On", which was recorded by Lyttle and the dancehall artist Spragga Benz. His strong live performances of soca influenced by dancehall and contemporary R&B made the song a hit throughout the Caribbean. The single was released in the U.S. in 2004 and the video was added to MTV on 24 May 2004. "Turn Me On" eventually went gold in the U.S. and peaked at number four on the Billboard Hot 100.
Lyttle signed with Atlantic Records in 2003. His self-titled album was released on 27 July 2004 in the U.S. The second single, "Last Drop", has been released in markets outside the U.S., and has reached the Top 10 in Finland, the Top 20 in Switzerland, the Top 30 in the UK and Top 40 in the Netherlands, Sweden, and Australia.
Along with Byron Lee and Arrow, he performed at the Cricket World Cup 2007 opening ceremony in Greenfield Stadium, Jamaica.
Lyttle's album, Fyah, was released by Universal Records in Japan in the late summer of 2008. It featured contributions from the artists, Problem Child, Lexxus and Skinny Fabulous, a duet version of "Turn Me On" with Alison Hinds. Kevin Lyttle is currently working on a new album scheduled to be released in 2012.
Turn Me On
Fyah
Wine and Go Down