The Feast of our patron saint – Saint Peter was celebrated in grand style this year as the San Pedro Town Council and Catholic Church held traditional ceremonies in honor of our patron saint. Highlighting this year's festivities was La Alborada which took place on Thursday, June 28, 2012, at the Friendship Park in front of the Roman Catholic Church.
Celebrations kicked off with La Bajada, this ceremony took place at the Roman Catholic Church where the statue of St. Peter was brought down from atop its altar; after which a novena was held for nine consecutive nights leading to La Alborada.
Traditionally, a band would march up and down the streets playing San Pedro's Anthem, Los Aires, alerting the village that the dance, La Alborada, would soon begin. Performers would dress up in traditional Yucatecan apparel (Ternos).
This year the San Pedro Town Council along with the San Pedro House of Culture got together to re-live this tradition. At Friendship Park in front of the Catholic Church, Zapateados and Cultural presentations took place. Performers from local dance groups in their colorful traditional Ternos performed dances such as the Mestizada, las Mujeres que se pintan, El baile de los viejitos, El Torito and El Toro Grande, to mention a few.
One of the highlights of the evening was the dance of La cabeza del Cochino (dance of the pig's head). This was done by a group of older women accompanied by a man who carries the head of a pig on his head. The basket is decorated with a pig's head, bread, rum, cigars and colorful little flags attached are also 12 colorful ribbons each representing a month of the year. The group did a wonderful rendition of La Cabeza del Cochino and had everyone applauding.
There was also great Marimba music and las mañanitas at midnight to St. Peter by Natalie Arceo and a Mariachi. This ceremony led to the Fishermen's Mass at 4:00 a.m. on Friday, June 29, 2012, which was followed by La Bebida (breakfast) at the Lion's Den and a boat procession. During the boat procession a lead boat carried the statue of St. Peter from the main pier in town, through Boca del Rio to lagoon area where the boats were blessed by Father Arturo Añonuevo who prayed for protection of the fishermen and their vessels from storms and misfortune.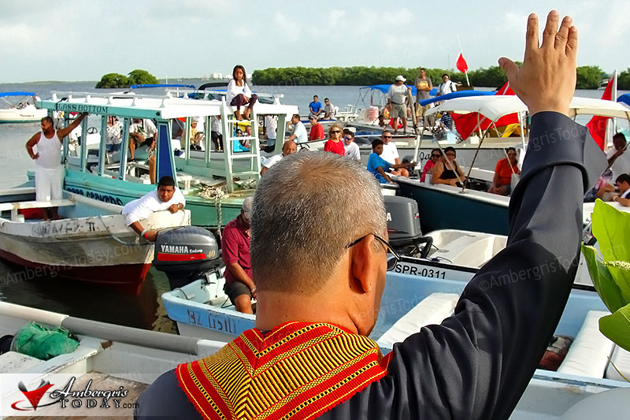 Official opening ceremonies for the Dia de San Pedro Celebrations took place at the Old Football Field on Friday, June 29, 2012, where Mayor Daniel Guerrero and Minister Of Tourism and Culture, Hon. Manuel Heredia welcomed all to the festivities. Guest speaker of the evening was Mrs. Wilema Gonzalez and there was great local entertainment which was followed by a spectacular firework display.
To end the Dia de San Pedro Celebrations on Saturday, June 30, 2012, there were cultural presentations by Alma Caribeña Dance Group which was followed by a grand dance with music by Cool J's Band.