Ramon's Village Resort, the official resort and sponsor of the Costa Maya Pageant, hosted a fantastic evening of fun, fashion and island entertainment during Noche Tropical, Saturday, July 28, 2012, where it hosted the eight contestants of the Costa Maya Pageant who have arrived in San Pedro, Ambergris Caye.
The competition started way before pageant night as the eight delegates from the Mundo Maya countries were judged for their cultural costumes which they presented during the evening. The best cultural costume will be awarded to one lovely lady on pageant night where the second part of the cultural presentation will take place. On pageant night the contestants will display a second cultural costume, a more carnival and extravagant one. Points on pageant night will be added to those given during Noche Tropical (the best cultural costume judging is judge separately from pageant night competition and does not influence in any way in the selection of Miss Costa Maya).
Noche Tropical at Ramon's Village was just a preview of what the audience at Costa Maya, pageant night, Thursday, August 2, 2012 will experience. During the evening the contestants were officially presented with their sash and modeled clothing of pageant sponsor Moondancer boutique and with makeup prepared by Alejandra Gomez, a local up and coming cosmetologist and makeup artist of San Pedro).
Miss Ramon's Village and Miss Top Celebrity Christine Syme was a host of the evening as she presented guests in attendance with a souvenir necklace by Ramon's Village and helped with a raffle held by Moondancer. Entertainment was provided by the San Pedro Mad Skill Culture Group with live Garifuna drumming and the dj music was provided by DJ Mauricio.
The contestants of the Costa Maya Pageant were delighted with some genuine island hospitality and got to mingle with local residents and tourists who flocked to the event on the beach.
For more Information, Galleries and Ticket Sales and Season Passes visit the Official Costa Maya Festival Website.
Miss Mexico's Cultural Dress
Miss El Salvador's Cultural Dress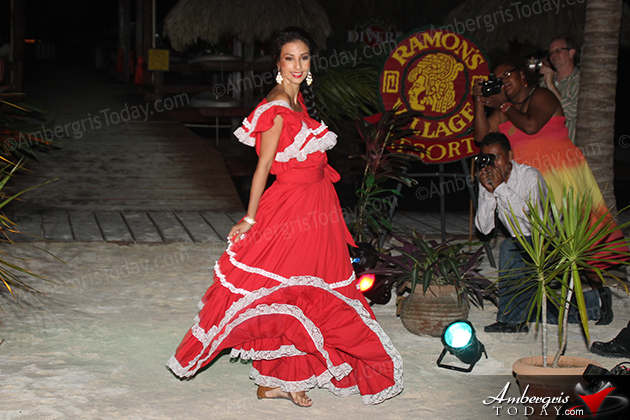 Miss Costa Rica's Cultural Dress
Miss Belize's Cultural Dress
Miss Panama's Cultural Dress
Miss Guatemala's Cultural Dress
Miss Nicaragua's Cultural Dress
Miss Honduras' Cultural Dress
For more pictures visit our facebook page Ambergris Today