The headquarters of the National Emergency Management Organization (NEMO) in San Pedro, Ambergris Caye is hard at work and making necessary preparations for the approaching storm Ernesto. Tropical Storm Ernesto is expected to become a category 1 Hurricane late this evening and the entire country, especially San Pedro, is under Hurricane Watch.
Mayor Daniel Guerrero, Minister Manuel Heredia and Frank Panton of SP NEMO were on the morning show today alerting and advising island resident to be prepared and if necessary to evacuate the island on a voluntary basis. Five locations have been identified as shelters here on the island and include: San Pedro High School, New Horizon Seventh Day Adventist School, Shalom Church, Living Word Church and the San Pedrito Evangelical Church; all will be officially open at 2p.m. today.
Voluntary evacuations will be allowed until 1:30 p.m. when the last vessel is scheduled to leave the island as the harbor will be closed at 3:00 p.m. Residents are reminded that the evacuation is on a voluntary basis hence there is NO FREE EVACUATION provided by the Government of Belize to leave the island but there is free transportation to shelters in Belmopan and Orange Walk!
Most businesses have indicated opening for the most part of the morning and establishments are reminded that the sale of liquor is to stop at midday today. The waterfront gas station (Texaco Dock) will operate until 12 noon and the Lagoon Gas Station and Caribeña Fuels on Blake Street will both operate until 5p.m. this evening.
Very little people have boarded up as storm track indicates landfall above Ambergris Caye, possibly a direct hit in Majahual and Chetumal, Quintana Roo, Mexico. A curfew has been put in place for the safety of island residents who are asked to refrain from being out on the streets by 10p.m.
Businessed in downtown San Pedro board up windows and displays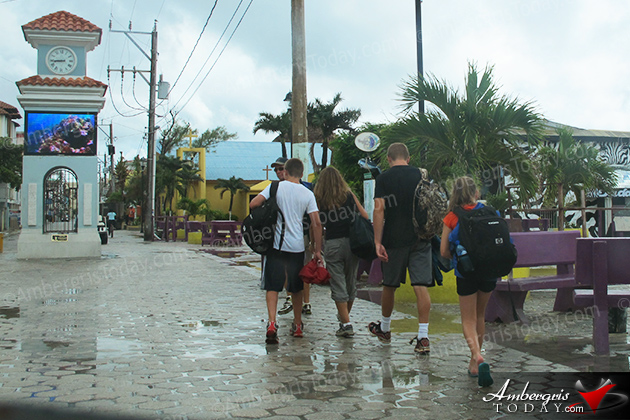 Tourists walk down empty streets as they seek proper shelter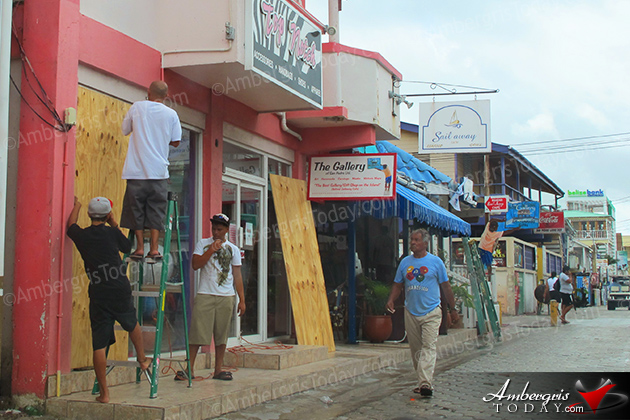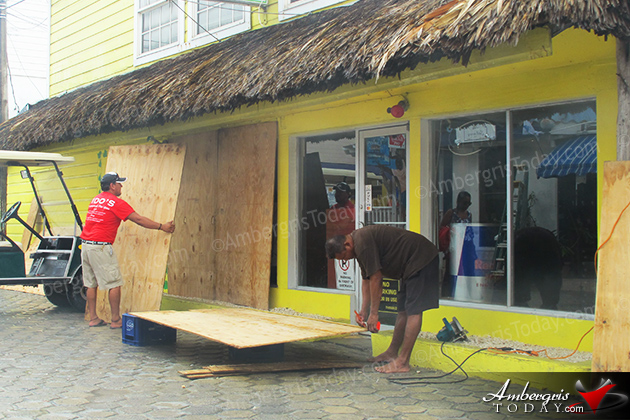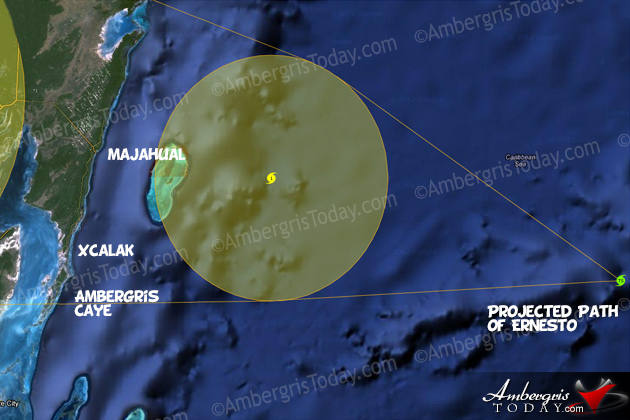 Ernesto is projected to impact landfall just above Ambergris Caye
NEMO San Pedro Public Advisory # 1
Tropical Storm Ernesto
Time: 9:00 A.M.
Location: 18.1N 85.0W
Maximum Sustained Winds: 65 MPH Gust: 75 MPH
Present Movement: West north West at 13 MPH
Minimum Pressure: 989 mb
East South East Of Belize 505 Miles
Tropical force winds extend outwards up to a 125 Miles.
Hurricane Warning Red II is in effect for the entire Coast of Belize. Tropical Storm Ernesto has the potential to further strengthen to a Hurricane later tonight.  
 
Ernesto is expected to produce accumulation of 3-5 inches. These rains are likely to cause dangerous FLASH FLOODS. If you live in an area subjected to flood, NEMO advises you to be prepared to quickly move your family and belongings to safety.  
 
If you are going to Shelters take along FOOD and WATER. Public Officers must be ready to report to their respective shelters.
 
*The last vessel will leave San Pedro at 1:30 p.m. The harbor will be closed at 3:00 p.m. Small Craft should seek safe harbor. All vessels must remain in port. NEMO advises the general public not to go to sea.
 
*The Coast Guard has been warning and encouraging people to move inland from the Cayes. This morning 176 people were evacuated from San Pedro. The UB Gymnasium has been prepared to shelter the evacuees.
 
*Persons living in Coastal areas in particular are encouraged to put up shutters.
Additional public transportation will be made available by the bus operators to assist the public moving inland.  
 
NEMO remains on full alert as it continues to monitor Tropical Storm Ernesto.
 
Stay Tuned for further advisories from NEMO and the National Meteorological Service.  
Forecast for Ernesto by Jeff Masters of Weather Underground
Ernesto does not have an eyewall, and this will severely limit the storm's chances of rapid intensification until the storm can build one. However, Ernesto is under light wind shear and over warm ocean waters of 29°C with very high heat content, so some modest intensification to a Category 1 hurricane is possible before landfall occurs near midnight tonight near the Belize/Mexico border. Heavy rains will be the main threat from Ernesto. The storm will take about a day to cross the Yucatan, and its winds will probably diminish by 15 – 25 mph. Once Ernesto re-emerges over water into the Bay of Campeche in the southern Gulf of Mexico, wind shear will be light and ocean waters warm with high heat content. I expect Ernesto will increase its winds by 15 – 25 mph while over the Bay of Campeche, and the storm could be near Category 1 hurricane strength when it makes a second landfall near Veracruz, Mexico.
BEL Advises of Possible Weather Related Outages
With the passage of Tropical Storm Ernesto, which may develop into a hurricane later today, BEL also advises customers to be prepared for possible weather-related power outages.
If there are any damages to the power system, BEL will not dispatch work crews during the storm. As soon as the "All Clear" is given by the National Emergency Management Organization (NEMO), BEL will dispatch crews to carry out damage assessments.  Thereafter, a schedule for power restoration will be determined and will be communicated to the public accordingly.
The Company reminds the public that the safety of our employees and the public is always a priority. The public is encouraged to stay away from substations and fallen power lines.  While BEL will not dispatch crews during the storm, or if it is unsafe to do so, the public is asked to call 0-800-BEL-CARE or 0-800-235-2273 to report any damages to the power system.