Meso Amazing – "Central America's Mesoamerican Reef is half the length of its famous Australian counterpart but in many ways more remarkable."
Most of this reef system borders the entire country of Belize and we will be biased to agree with the above statement by National Geographic. Belize's beauty is enhanced by the Mesoamerican Reef which runs from Mexico down to Honduras, but Belize is lucky to have the largest continuous section of the reef just offshore. The Belize Barrier Reef is one of the largest coral reef systems in the world and Belize's top tourist attraction.
National Geographic just recently posted a series of amazing photographs taken by Brian Sherry of the Mesoamerican Reef, in which there are amazing photographic captures here in Belize. Brian Skerry is a photojournalist specializing in marine wildlife and underwater environments. Since 1998 he has been a contract photographer for National Geographic Magazine covering a wide range of subjects and stories.
An award-winning photographer, Brian is praised worldwide for his aesthetic sense as well as his journalistic drive for relevance. His uniquely-creative images tell stories that not only celebrate the mystery and beauty of the sea, but also help bring attention to the large number of issues that endanger our oceans and its inhabitants.
Click Here to see the rest of Brian Sherry's images on National Geographic
(Headline Picture) A view from 12,000 feet, off the coast of Belize, shows the parts of the system that make the whole. The outer reef breaks the force of the ocean swells. Next comes the white line of coral rubble along the reef crest, then the sandy back reef, and, finally, the lagoon: a maze of sand islets, mangrove cays, and sea grass beds.
Whale sharks gather at the surface off the northern tip of the Yucatán Peninsula. Here, at the upper end of the Mesoamerican Reef, convene the largest known assemblies of whale sharks. The giant fish seem to come for the eggs of spawning bonito. Farther south, off the coast of Belize, whale sharks are drawn to the white clouds of eggs released by huge aggregations of spawning dog snappers, mutton snappers, and cubera snappers.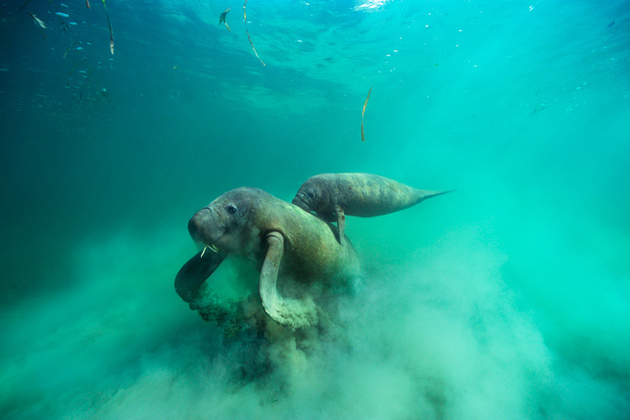 A manatee mother with her calf in tow grazes on turtle grass at Swallow Cay in Belize. The West Indian manatee divides its time between sea grass pastures and the waterways of the mangrove forest.