San Pedro gave the Belize Dance Company the standing ovation it deserved after the group presented their spectacular "Belize – Diverse Cultures and Rhythms" show which it performed in a Europe tour as part of the Festival du Sud this past summer.
The presentation on the island took place at the R. Angel Nuñez Auditorium on Saturday, November 3, 2012, and was made possible by a number of sponsors that helped the Dance Company to put on the performance which was a benefit concert for Miss Rosita Baltazar who was diagnosed with breast cancer and forced to cut short her participation with the Belize contingent in Europe.
Rosita is the acting director and teacher for the San Pedro Dance Academy, where she teaches ballet, modern, folk and contemporary to young people 4 to 21 at the Lion's Den on Fridays and Saturdays.
You could almost picture the Belize Dance Company performing in Europe and stunning their audience with their stellar performance which is deserving of an award; it is first class production. Belize should be ever so proud of the members of the dance company that surely represented with their Maya, Creole and Garifuna cultural dances; nothing short of spectacular.
Joining the Belize Dance Company on stage was the San Pedro Dance Academy that opened the show with performances from all their age groups including past junior and senior groups that are no longer with the academy.
At the show, the San Pedro Cancer Society was able to present a check of $1,100 to the cause with money raised from food and bar sales at the show. Its members, along with many other volunteers were more than willing to help raise funds for Miss Rosita. It was also announced that Tropic Air was sponsoring part of Rosita's travels to southern Belize as she seeks medical attention for her cancer.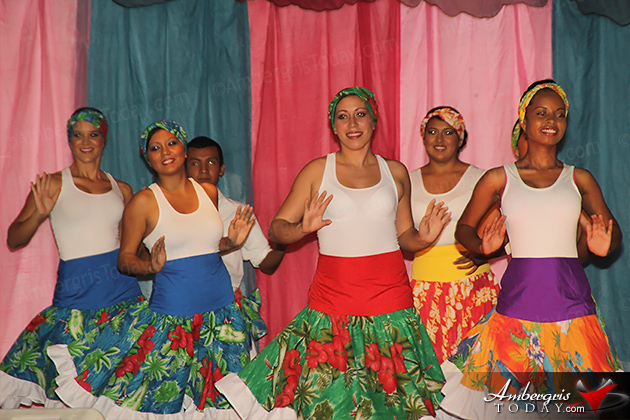 The San Pedro Dance Academy presented a few performances