With the community of Ambergris Caye facing an increase in crime, authorities are doing everything they can to lower the crime rate and keep island residents as safe as possible. After having carried out a public meeting with island residents and police department, Mayor Daniel Guerrero, along with Mr. John McAfee, presented to the San Pedro Police Department much needed and essential equipment to tackle crime.
"Crime is everybody's business" stated Mayor Daniel Guerrero on his welcome address at the official presentation of equipment ceremony on Thursday, November 8, 2012, at the San Pedro Police Station Compound. "Crime is affecting the tourism industry as we have been listed on travel advisories; it is time to stop this. Let us protect our industry and turn San Pedro into the safe haven once more."
Mr. John McAfee was more than pleased to help out the community of La Isla Bonita which he calls home. His donation included equipment for the police officers, housing for five police officers and a boat for transportation. Equipment donation included tasers, handcuffs, hydration packs, flashing lights, metal detectors, pistol belts, pepper spray and batons, to name a few.
On behalf of Minister Heredia, Mr. Kevin Gonzalez, presented a short speech to those in attendance and also presented six of twelve Motorola hand-held radios for the department. Assistant Superintendent Vienie Robinson delivered the vote of thanks after the official presentation of equipment which was carried out by Mr. John McAfee, Mayor Daniel Guerrero and Mr. Keving Gonzalez.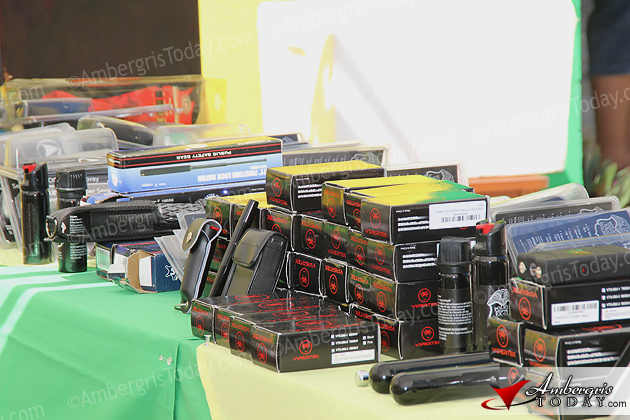 John McAfee addresses gathering at the San Pedro Police Station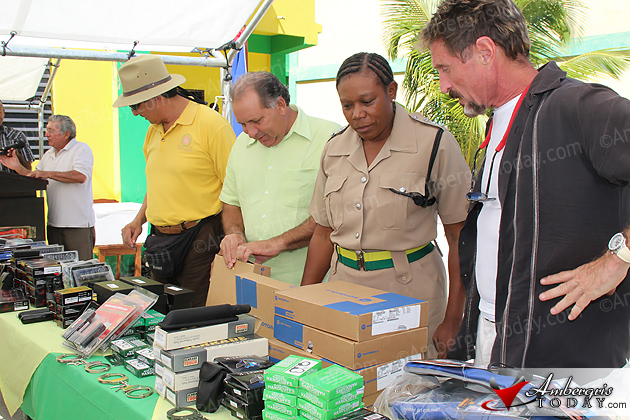 Mayor Daniel Guerrero, Mr. Kevin Gonzalez, Assistant Superintendent Vienie Robinson and Mr. John McAfee inspect donated equipment