The number one tourist destination in the country of Belize now boasts a newly renovated and safety enhanced airport, the John Greif II Airport. The official inauguration took place on Thursday,  November 8, 2012, where officials of the Belize Airports Authority, COCESNA, distinguished guests and media gathered at the airport to witness such important event.
Father Arturo Año Nuevo led everyone in prayer for the special occasion after which master of ceremonies, Mr. David Marin, invited Mayor Daniel Guerrero for the welcome address. In his address Mayor Guerrero stated that this is a huge step to improve infrastructure on the island which will benefit the tourism industry that brings much revenue to the island and entire country.
"COCESNA is honored to contribute to such project for the betterment of civil aviation and tourism in Belize," stated Mr. Louis Ake, Regional Manager of COCESNA Belize. "After 20 months of hard work, the project is finally a reality and we are glad to have invested 2.3 million dollars towards this project that will act as a catalyst for Belize and Central America."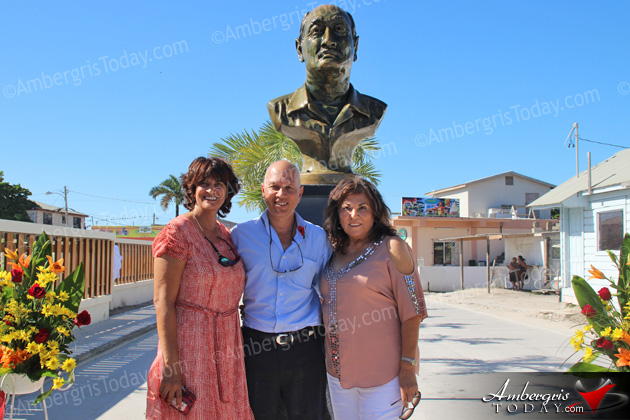 Following Mr. Ake was lovely Mrs. Celi McCorkle who delighted everyone present with a brief history on how one of the pioneers of the tourism industry, the late John Greif II, came about to San Pedro. She talked about his love for the island, his passion for flying, his way of helping others and how he started his small business which is now one of the country's number one airlines, Tropic Air Ltd.
Keynote address speaker was no other than the brains of this project, Hon. Manuel Heredia Jr., Minister of Tourism and Culture. In his speech Heredia stated that San Pedro is the gateway for the tourism industry and the airstrip is the key transportation for local travel, emergency medical services for the island, daily freight services as well as an international port. He continued by stating that the inauguration is a great milestone to celebrate as it represents one of the most important transportation assets for the country as air connections are a critical factor for the development of a tourism destination like Ambergris Caye.
Mr. Kenworth Tillet had the honors of giving the vote of thanks after which the media and invited guests witnessed the official ribbon cutting which was done by Hon. Manuel Heredia Jr., Hon. Rene Monetero, Hon. Edmund Castro and Mrs. Barbara Miller. Also unveiled was a statute of the bust of Mr. John Greif II that is situated on the newly paved street next to the Tropic Air Terminal. The unveiling was carried out by Ms. Celi McCorkle, wife of John Greif II, along with John Greif III and Celi Jean Greif.
The project included rehabilitation and resurfacing of the runway, parking space for aircrafts, runway and taxi way lights to name a few.
New and improved runway lights for the San Pedro John Greif II Airport
Runway resurfacing and upgrades for the San Pedro John Greif II Airport