As a travel writer, I'm often faced with the quandary of needing to share information about my favorite places in the world, while secretly hoping no one else finds out about them, causing them to become overrun with tourists.
My first time in Belize was long before my travel writing days. I was an ordinary tourist who wound up here with an ex-boyfriend who thought Belize 'sounded cool' after inadvertently ending up at BZE on a layover years before. I did minimal research and booked a hotel without much thought. It was reasonably priced and it was on a beach.
Who knew that the trip, and most certainly my choice in hotel, would have led me to where I am today.
From the moment we arrived in Belize, it was sensory overload. Laminated boarding passes, a tiny plane, my eyes glued to the massive barrier reef, and landing at an "airport" that was nothing more than a small office surrounded by dirt roads.
Instantly, I thought, "What have I got myself into?"
Nearly eight years later, I can tell you what I 'got myself into' was ultimately a life changing path that fueled an incurable case of wanderlust, led me to my current career, and the ability to now call Ambergris Caye my part-time home.
During my initial visit, I became instant friends with a couple from Tennessee who came to San Pedro to celebrate their anniversary – every year. They were guests in the same hotel, and seeing that it was a small property, we had ample time for Belikin bonding at the pool.
Having dinner with friends from Tennessee (Mike and Michelle) and Silvina
                                          Krysta Harris and I doing the statue dive off Ambergris Caye
What I quickly realized was not only how beautiful the island of Ambergris Caye was, but how genuine and remarkable the people were. I had not only become friends with the couple from the US, but I had developed relationships with many local Belizeans.
Me along with the staff of Ambergris Today and photographer Jose Luis Zapata covering Carnaval in San Pedro, Ambergris Caye, Belize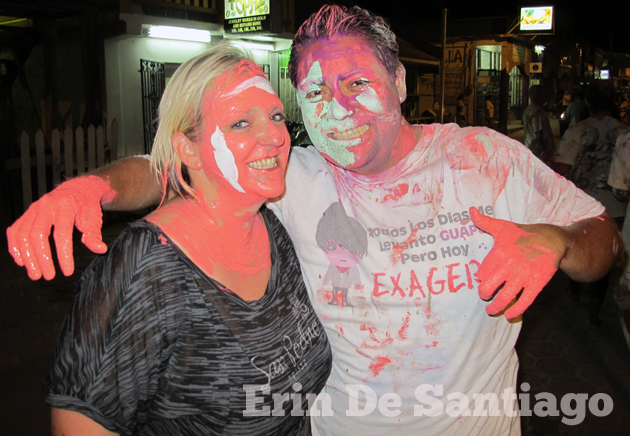 Painted by Gerry during Carnaval celebrations in San Pedro Town, Ambergris Caye, Belize
That trip sparked a promise to return to San Pedro every year and meet up with them. And since 2005, I have done just that.
When I was still tied to my corporate life in America, people would often ask why I would go the same place on vacation every year. My response never faltered…
There is something magical about Belize and the island of Ambergris Caye…every time I return, it just feels like home.
With Dorian Nunez during Halloween Party a San Pedro Holiday Hotel
Moving to Asia several years ago gave me the opportunity to jump into freelance writing full time. I realized that if I had any chance of being successful, I had to focus on destinations I was passionate about.
Belize.
In the last four years, my travels have taken me to over 40 countries on 5 continents, but I am yet to find a place that resonates with me like Belize does. Here, I've found some of my closest friends, a wealth of natural and historical attractions, a veritable melting pot of cuisines, and a sense of community I have never experienced elsewhere.  At times, I find it hard to convey the emotional effect Belize has on me, and I struggle to explore ways to share these experiences with travelers looking to visit the country.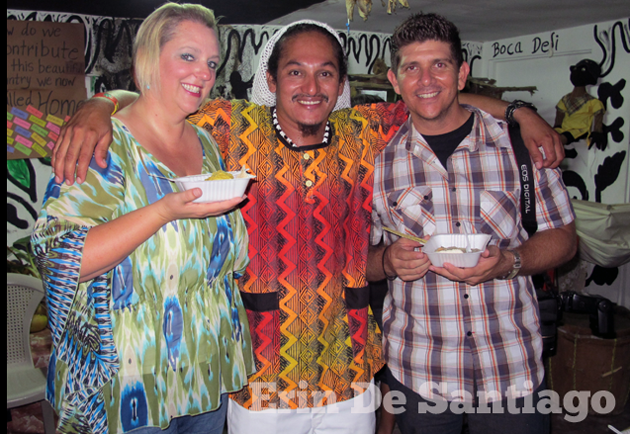 Here with friends Walter Medina and Dorian Nunez ready to sample Garifuna food
Sometimes, people just have to experience Belize's magic firsthand and then most say, "I get it now."
My job is to help promote tourism to this amazing country, which I'm fortunate enough to call my part-time home now. It saddens me to see the media frenzy that has ensued this week with the recent murder of an American expat, Greg Faull, and the potential involvement of John McAfee.
I have received emails and comments from concerned friends, travelers, and readers who think Belize is a warzone.
Really?
Traditional media has a knack for the melodrama and sensationalism of events. Murders take place all over the world – this is one case that is making headlines due to McAfee being wanted for questioning.
Despite some reports, Belize is not hell and the country should not be "avoided at all costs." This was an isolated incident that has little to no bearing on how safe Belize is for a traveler. There are many other countries with well-documented histories of crimes against tourists, yet people still flock to these destinations in droves.
Bangkok is notorious for unscrupulous non-metered taxi drivers and countless scams against tourists (especially at the Grand Palace).
Shady characters at the base of Paris' Montmarte coerce you to buy their friendship bracelets after tricking you into putting one on your wrist.
Pickpockets and overt robbers are rampant throughout tourist areas in Barcelona.
Thieves dump food and other unmentionables on you to distract you into setting down your camera and then abscond with your valuables in Quito and parts of Europe.
And criminals don't always come in the human form – while monkeys may be cute, watch your valuables in Bali as these guys are trained to take everything from your sunglasses to your wallet!
As a writer who is currently here "on the ground" in San Pedro, I urge travelers to take international media reports with a grain of salt. Trust those reporting locally and recognize that there is no reason to cancel your trip or be overly concerned for your safety. Always exercise common sense no matter where your travels take you, and please – please come and fall in love with the real Belize.
---
*Erin De Santiago is a freelance travel and food writer who splits her time between the Netherlands and Belize. Erin specializes in Belize, luxury hotels, culinary travel, and international Disney Theme Parks, and she is the Belize Regional Membership Coordinator for the International Food, Wine, and Travel Writers Association (IFWTWA). She writes for a number of publications as well as her own blogs. Look for her Belize Travel column on Examiner and join her on Facebook at Belize Travel Examiner.