A Christmas Carol Concert was held on the beach near Wayo's Bar on Saturday, December 15, 2012. The event was a first for San Pedro and had three main aims; to celebrate the festive season, to socialize together as a community and most importantly, to raise funds for the five children who face Christmas this year without their father for the first time.
 
Hector Duran or 'Chapin' as he was fondly known was tragically killed just two months ago in an accident at work, when a compressed air cylinder exploded. This brought great sadness to the whole island and the outpouring of grief was immense.
 
With Christmas fast approaching, a decision was made to try and offer some support to the children and show them just how much the community cared for, respected and loved their father. A small committee was set up and work began in earnest to raise funds and prepare for an evening of entertainment. Committee members included Vic Murphy, Grant Guy, Bertha Vasquez, Joe Chung, Dee Regis, Melanie Paz, Eduardo (Wayo) Vasquez and Shirlee Arnould.
 
As the event neared, the offers of help flooded in. Cash donations, goods and services were presented by businesses and individuals alike; the support was overwhelming. The committee was struggling to stay afloat with the excess work that the extreme generosity of people on the island and indeed those abroad, had created.

 
The entertainment for the evening consisted of a volunteer choir that was fully supported by guitars, harmonica, percussionist drums. Other volunteer entertainment included the Roman Catholic Youth Choir and the Isla Bonita Marching Band.
 
All around the venue, the Christmas lights twinkled as the night drew in, creating a magical scene of warmth and happiness. The angelic voices of the RC Youth Choir melted people's hearts followed by the splendor of the red robed Christmas Carolers. The brilliant Marching Band made sure no one slept and brought us all back to reality.
 
Over 150 plates of food were sold, which had all been donated, raising more funds for this splendid cause. The main fund raising activity revolved around various types of raffles and 'Chinese Auctions'. The 'collectors' were run off of their feet as they sprinted from donor to bidder to ticket purchaser and the money continued to roll in.
 
The crowd, which exceeded 350, reveled in the opportunity to sing along to the Christmas Carols and other Christmas songs, the words of which were illuminated on a giant white screen. What could be more enchanting than this family orientated mass of people gathered on the idyllic white sandy shores of the Caribbean? This was paradise in all its glory.
 
The night finished with attendees meandering home to the background of fading music. The big question is how much was raised? The final figure is still being worked out as there were a number of expenses that had to be paid up front and these will have to be deducted from the overall total. The intention was to try and reach a target of $5000.00 profit, which would then be given in its entirety to and for the children of Chapin.
 
The final figure will be published hopefully by Wednesday, December 19, and the committee is pleased to announce they believe they have not only achieved the target but may have even exceeded it. (Click Here to read "Thank You" letter from the organizing committe)
The Isla Bonita Marching Band provided entertainment of the fundraising event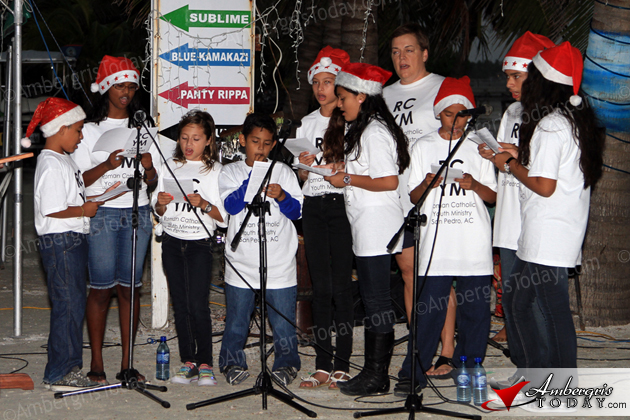 The RC Youth Movement Choir performs
Photos provided by Erin de Santiago