San Pedro, La Isla Bonita, has become over saturated with vehicles and we can all agree that the main traffic congestion occurs in downtown. With progress and development came the steady increase in vehicles so as to keep the island functioning; catering to the tourism that keeps it going.
Yes, we have had to sacrifice the once sandy streets and the 'barefoot' charm that San Pedro Town had; but keeping up with the tourism product and demand did some with this small price.   From golf carts to vans, ATV's, pickup trucks to delivery trucks, you name it, it's found here on the island.
One of the main problems with the congestion is the heavy cargo trucks that are all over town delivering goods for grocery stores, construction sites and hardware stores. Upon the completion of the cobble stone streets it was said that traffic of those heavy trucks would be diverted to the back streets with limited permits within town limits, yet nothing was done to implement these rules.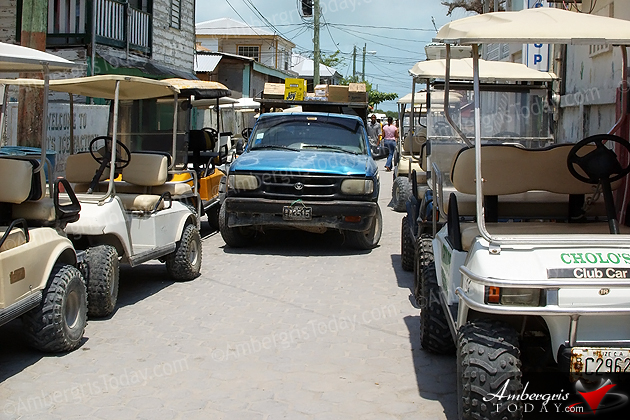 With this in mind, the San Pedro Town Council has taken the step of making it a law that delivery of goods be done only at night. Ambergris Today met with Mayor Daniel Guerrero who elaborated more on this issue.
"We are working hard on getting this law gazette," stated Mayor Daniel. "We hope that by March of this year all deliveries will be taking place during the night so as to alleviate the traffic congestion on our streets and mostly to avoid any accidents."
According to Mayor Guerrero, this is a big change in which the entire community will have to get used to especially those offering the delivery service and those receiving their goods. The island is rapidly growing and with development comes lots of changes. This is just one of the many changes that the current Town administration is working on to make San Pedro Town, Ambergris Caye more safe and beautiful.
Mayor Guerrero promised to keep the island more informed with these new laws as the Town Council comes closer into implementing them.