San Pedro, Belize has been getting quite a lot of visits from famous actors. The most recent actor to be in our beautiful shores is famous actor and screenwriter, Brian Krause most popularly known as "Leo Wyatt" of the famous TV Series "Charmed".
Brian Krause was at one of San Pedro's premier resorts, Captain Morgan's Retreat, this week and took time to take a picture with staff members of the resort. Brian celebrated a Belizean birthday this past Friday, February 1, 2013, as he is in the country filming a Sci-Fi movie titled Poseidon Rex.
Brian Krause and Berne Velasquez
Brian is working alongside Belizean artist Berne Velasquez of which both will appear in the movie which is based on some tourists who came to Belize on vacation. The group decides to go on a diving trip to the Blue Hole with their tour guide, Berne's character. Yet, little do they know what lies beneath the water. The tourists must survive their vacation before becoming the prey of an underwater man-eating dinosaur known as Poseidon Rex.
A native of Orange County, California, Brian Krause is best known for his portrayal of Whitelighter Leo Wyatt on Aaron Spelling's popular program "Charmed" (1998) [1998-2006/The WB] working along with Alyssa Milano, Rose McGowan, Holly Marie Combs and Shannen Doherty. He starred on the popular program for eight seasons and appeared in 154 episodes.
Brian Krause in San Pedro, Ambergris Caye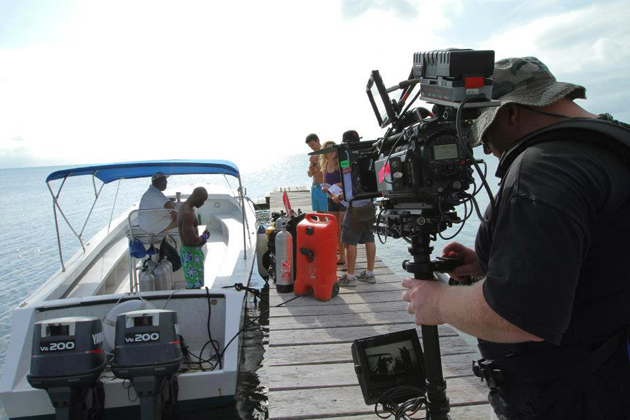 Behind the Scenes "Poseidon Rex"
Melody Wolfe of Belizean Melody Art Gallery with Brian Krause