Taking home seven awards out of the eleven that were handed out at the 12th Annual Belize National Tourism Awards 2013 on Saturday, May 18, was the village of Placencia, Stann Creek, Belize, including the top Destination of the Year Award.
The Belize Tourism Board and the Minister of Tourism, Honorable Manuel Heredia Jr., stepped out of the ordinary this year and invited over 230 guests, including industry stakeholders and government officials, to semi-formal, all-white, beach party at Bannister Caye located nine miles east south east of Belize City. The caye is only a 2.8 private island that boasts 600 feet of white coral sand beach and surrounded by crystal clear turquoise blue water.
Special invited guests and award nominees were whisked away to Bannister Caye on board party boats where everybody enjoyed cocktails while enjoying DJ music and a fantastic sunset behind Belize City. Upon arrival to the private islands, guests were greeted by the soothing music of the Pantempters Steen Pan.
Hosting the evening's award ceremony were Indira Craig and William Neal with musical performances by Aurelio Martinez and Tanya Carter; gourmet hors d' oeuvres and signature cocktails were created by Belizean chef Sean Kuylen.
Over 12 years ago, the BTB had a vision to recognize organizations and industry partners for their dedicated and outstanding service to Belize's tourism industry. The BTB is proud to say that the awards have certainly evolved from being just a statement of excellence, into a way to promote creativity and to help establish a benchmark for best practices in the industry.
Director of Tourism, Laura Esquivel-Frampton said, "A heartfelt congratulations to all the nominees and winners. Your work is a testament to the hard work and dedication of the entire tourism industry in Belize."
The Minister of Tourism & Culture, Board of Directors, Management & Staff of the Belize Tourism Board salute all winners on their outstanding achievements!
*Small Hotel of the Year – Singing Sands Inn, Placencia
A licensed small hotel that captures the essence of warmth and authenticity through its accommodations. This property displays commitment to excellence in customer service, operational standards and is keen on improving and developing its products and services, including capacity building. Importantly, for this small hotel of the year, eco-consciousness and sustainability are equally important to guests' experience.  
*Restaurant of the Year – Maya Beach Bistro, Maya Beach Hotel, Placencia
A restaurant that offers more than just really good food, but an overall dining experience. The restaurant's ambiance, coupled with a menu of creative concoctions and excellent customer service, creates its own distinctive character.  The use of local products and importance of food safety and hygiene, sell the Belize brand from appetizer to dessert.
*Front Line Person of the Year – Natalie Ranguy, Chabil Mar Villas, Placencia
A frontline employee who has great interpersonal skills, welcomes guests with outstanding Belizean hospitality, is knowledgeable about Belize, and goes above and beyond the everyday duties and responsibilities to ensure that guests' needs are fulfilled. This individual makes an impressive first and last impression of her work place.  
*Tour Guide of the Year – Jerome Williams, Huracan Diving, Long Caye, Lighthouse Reef Atoll
A licensed tour guide who is knowledgeable about Belize, including, but not limited to, the history, natural attractions and local tours. This guide has excellent communication and interpersonal skills, a positive attitude, and great planning and leadership abilities. The tour guide ensures that guests have an unforgettable experience without compromising safety and security.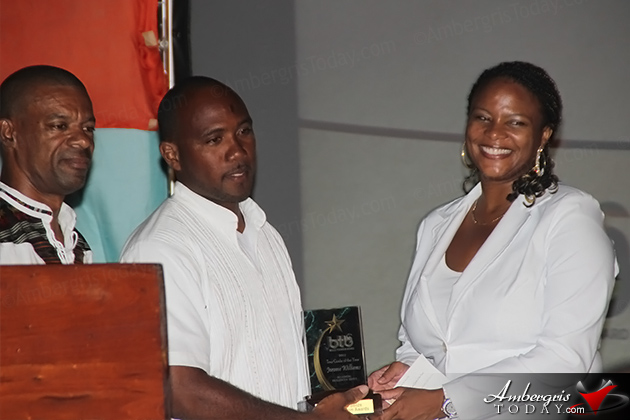 *Tour Operator of the Year – Splash Dive Center, Placencia
A licensed tour operator that excels in customer service, creativity, and personalization, while offering a variety of tours. This tour operator sets the bar for marketing initiatives, meeting the standards of safety and security, equipment quality, cleanliness and reliability. This awardee ensures that visitors have a memorable and enriching experience, therefore, leaving guests with a great lasting impression of Belize.
*Festival of the Year – Placencia Lobster Festival
A hallmark festival/event that promotes income generating activities, stimulates local and international travel, attracts national and international media coverage, and positively promotes the destination.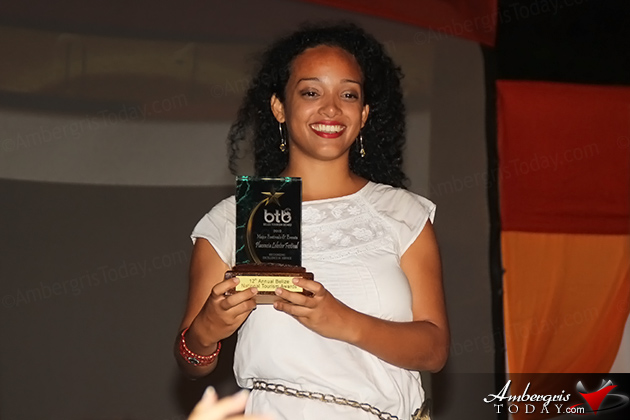 *Hospitality Award – Placencia Tourism Center
A tourism ancillary organization that offers exceptional customer service, manages the business seamlessly, is sensitive to the needs of staff, flexible in adapting to change and accommodating to the industry's needs. Regardless of the availability of resources, this entity is always looking for innovative ways to promote Belize through its hospitality services.
*Hotel of the Year – San Ignacio Hotel, San Ignacio, Cayo
A licensed hotel where service exceeds excellence; where positive attitude and attentiveness of staff are the norm. The hotel of the year offers exceptional value for money and is equipped with modern facilities and amenities.  Its ambience gives visitors an authentic Belize 'feel'.  This hotel has, over the years, demonstrated its willingness to adapt to the demands of its patrons, yet remain true to its core values. One of its hallmarks is the adoption of green initiatives.
*Destination of the Year – Placencia Village
A destination that is proactive in its marketing initiatives and product enhancement. It also seeks to develop local tourism businesses for the development of the destination. The Destination of the Year encourages the local community's participation, promotes sustainability, executes events that highlight local culture and promotes tourist attractions.

*Lifetime Achievement Award – Yesse Young
The Lifetime Achievement Award was presented to Jessie Young, President of the Community Baboon Sanctuary Women's Group in Bermudian Landing, for dedicating her life to grow and develop Belize's tourism industry.  This awardee's contributions are significant and have positively impacted Belize and the lives of countless Belizeans. Despite challenges, this tourism industry lifetime achiever persevered.
*Minister's Award – Mr. David Heredia, Anchorage Hotel, Caye Caulker
Minister of Tourism & Culture, Hon. Manuel Heredia, presented two special awards for the night. The Minister's Award was bestowed on David Heredia, owner of Anchorage Hotel in Caye Caulker, for his work and interest in the tourism industry which are grounded in community improvement and activism.