Who built the ancient cities in the tropical forests of Honduras, Belize, Guatemala and southern Mexico? Why did they abandon them? What happened to their civilization? More than a century and a half later, a new exhibit, "Maya: Hidden Worlds Revealed," created by the Science Museum of Minnesota in St. Paul, taps into the continuing fascination and explores the archaeological discoveries of the past few decades.
"It turned out that while most people had heard of the Maya, they didn't know much," said museum curator of archaeology Ed Fleming. "People had this basic idea of geniuses in the jungle whose civilization disappeared. We thought that presented a great opportunity."
Fleming worked with a team of designers, fabricators and international Maya experts to create the museum's largest and most ambitious traveling exhibit to date. It opened on Friday, June 21, 2013 and fills some 15,000 square feet with almost 300 artifacts, replicas of massive monuments and interactive activities.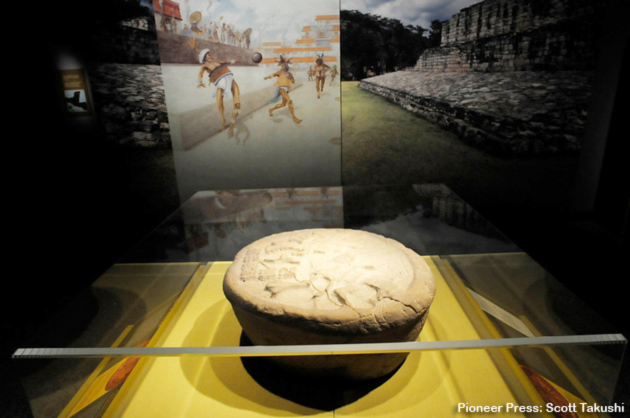 A limestone ball court marker, used in ball games involving a heavy rubber ball, from Lubaantun, Belize, from the Late Classic period, A.D. 70-790. Teams of players used their hips to send the 8-pound rubber ball careening off court walls, and the ceremonial games sometimes culminated in human sacrifice. (Pioneer Press: Scott Takushi)
The exhibit explores not only the iconic temple pyramids, but also the thatched huts of commoners, royal tombs and cave sacrifices. At the exhibit, visitors will learn about Maya astronomy, religion, ball games and warfare, as well as reasons behind the civilization's collapse and its continuity in the traditions of contemporary Maya. Previous exhibits about the Maya have tended to focus on artwork, and while this exhibit includes beautiful artifacts, it is designed as a sweeping introduction to the culture of the Maya during its classic period from A.D. 250 to 900.
When the Science Museum decided in 2008 to put together an exhibit on the Maya, its first task was to line up partners with expertise who could share the cost of the $4 million project. Those partners include the Denver Museum of Nature and Science; Museum of Science, Boston and the San Diego Natural History Museum.
"We started scratching our head about where we should go," said Mark Dahlager, the museum's director of exhibit development and design. As luck would have it, Fleming had once worked on a Maya archaeological dig in Belize.
"He mentioned that Belize was a country that had Maya sites, and that he had been in a field camp after college with a guy named Jaime Awe and maybe we should just give him a call. It was almost that simple," Dahlager recalled.
Awe heads the National Institute of Archaeology in Belize and was eager to see his country's excavations highlighted in a major exhibit in the United States. "And I knew the artifacts in Belize were spectacular," Fleming said. "Every bit as spectacular as elsewhere in the Maya world."
A 3-D map showing the city center of Caracol, Belize, during the Classic Period: AD 550-780. (Pioneer Press: Scott Takushi)
Fleming and museum staff flew to Belize several times in the past few years to visit sites, interview field teams and search through a dusty cinderblock storage building in Belmopan filled with national treasures. Many of these artifacts are on display for the first time, supplemented with pieces from museum collections in the U.S.
Artifacts include jade beads, mosaic masks, carved figurines and a rare scribe's ink pot made from a cross section of a conch shell that still contains its original pigment. Visitors also will see what passed for Maya beauty – teeth inlaid with jade.
One gallery focuses on excavations at the Maya city of Caracol in Belize, overseen for the past 30 years by archaeologists Arlen and Diane Chase of the University of Central Florida. While Caracol is less well-known than rivals Tikal in Guatemala or Copan in Honduras, for example, the Chases' work has confirmed that Caracol was one of the largest and important Maya centers and home to perhaps 100,000 people.
Another gallery shows a diorama of a Maya tomb excavated by the Chases at Santa Rita, Belize.
"We were trying to recreate in full scale and in as much detail as possible what the archaeologists found when they opened that tomb up," said Sutton-Johnson, who drew on her experience as a theater set designer in the Twin Cities to create the exhibit's evocative environments.
A replica of the west facade of the El Castillo pyramid, A.D. 600-800, at Xunantunich, Belize, is part of the "Maya: Hidden Worlds Revealed" exhibit that opens Friday, June 21, 2013, at the Science Museum of Minnesota in St. Paul. Mayans built gray stone pyramids and covered them with plaster and stucco decorations painted in red and white, as seen in the lower left panel. (Pioneer Press: Scott Takushi)
The most impressive replica is a massive frieze from a temple in Xunantunich in western Belize. When museum staff toured the site, they were struck with the immense scale of the pyramids and wondered how to convey their size to museum visitors. They decided to fill a gallery with a 30-foot-by-15-foot section, which was built by the exhibit fabrication company Blue Rhino in Eagan.
The frieze fills an entire wall, but a video shows that it's really only a tiny section of the pyramid. A projector splashes the gray faux stone carvings with brilliant red and green colors.
"I'm sure it's going to be a crowd pleaser," Sutton-Johnson said. "The Maya painted their buildings in really gaudy colors, but of course when you got to the sites, all that color has been worn away and they look gray."
"Hopefully, those elements will get across the awe we felt when were in this place," Dahlager added.
 created by staff at the Science Museum of Minnesota in St. Paul, opens Friday, June 21, 2013, and runs through Jan. 5, 2014. The $4 million project explores the archaeological discoveries of the past few decades to help piece the mystery of the Mayans together. The exhibit will then travel to Denver, Boston and San Diego.
Pottery Cylinder Vase, A.D. 700-800, from Buenavista del Cayo in Belize, depicts the Maize God's unending dance and symbolizes both the creation of the universe and also his cycle of death and rebirth. (Pioneer Press: Scott Takushi)
Click Here to Read More About "Maya: Hidden Worlds Revealed"