A trip to Ambergris Caye is not a successful one without visiting the marine life that has made it the number one island in the world. This is why the Costa Maya Committee delights in arranging for the eight beauty ambassadors who compete for the prestigious Miss Costa Maya International crown to enjoy some fun in the sun, sea and sand.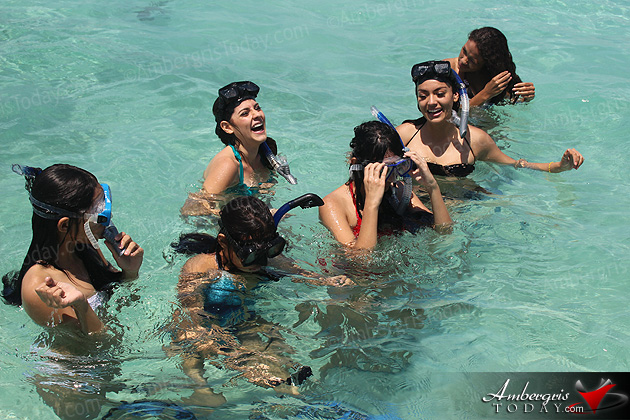 On Friday, July 26, the Costa Maya Pageant delegates were treated to some underwater adventure courtesy of Discovery Expeditions that took them on the Sea Trek adventure which had them walking at the bottom of the sea and exploring the coral reefs at the Mexico Rocks Reserve.
On Sunday, July 28, it was Seaduced by Belize that showed the ladies all they fun they can have while snorkeling at the Hol Chan Marine Reserve and Shark Ray Alley, two of the most famous marine parks in the country of Belize and the Central American region. They swam with sharks, rays, turtles and an array of Tropical fish that had them so fascinated that they were very reluctant in leaving the water and the spectacle.
After all the adventure in the sea, it was off to the neighboring Caye Caulker where the contestants were hosted by Rainbow Grill with delicious lobster and shrimp lunch; took to some Punta dancing lessons at the Lazy Lizard on the Caye Caulker Split; had a taste of the famous Lizard Juice and toured the island on golf cart. On their way back to San Pedro and with the delegates asking for more, they were taken manatee spotting but unfortunately could not find any; nevertheless they were all very fascinated with the weekend's adventures.