Bringing in the 32nd Anniversary of Belize's Independence, the San Pedro Town Council held the official flag raising ceremony and fireworks display on Friday, September 20, 2013. The festivities kicked off with the annual block party held at Central Park.
The official ceremony had speeches of goodwill by Mayor Daniel Guerrero and Hon. Manuel Heredia Jr., Minister of Tourism, dance presentations by the San Pedro Dance Academy and a song by Elina Palma. The crowds parted and gave way to the arrival of Miss San Pedro 2013 Solani Graniel into Central Park. She was accompanied by Deputy Mayor Mito Paz and led by the San Pedro High School Marching Band and the Torch Bearers made up by members of the San Pedro Leos Club.
This year the Belize Coast Guard assembly was lead by Sanpedrana Almita Pinelo Coast Guard Adjutant, who just recently became a member of the Belize Coast Guard after completing her training in the United States of America. Almita had the honor of leading the Belize Coast Guard assembly into Central Park, inviting Mayor Daniel Guerrero and Hon. Manuel Heredia for the inspection of the members and firing off the 21 gun salute at the stroke of midnight.
Mayor Daniel Guerrero then took the podium and proudly shouted, "Long Live Rt. Hon. George Price Father of our Independence, Long Live Philip W. Goldson, Long Live Hon. Dean Barrow and Long Live Belize!" What followed was a half hour fireworks display that lit up the sky and boosted the celebratory mood of the town.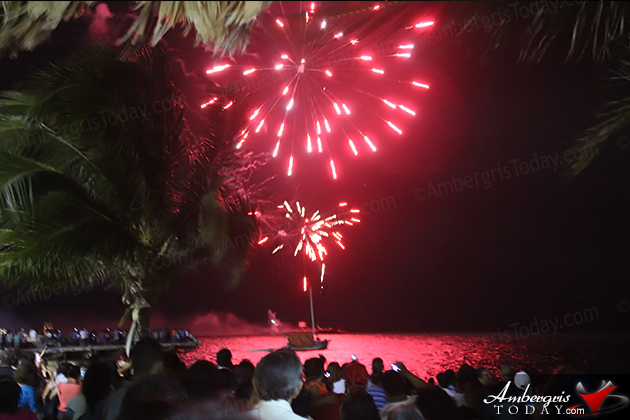 Town Council Continues Patriotic Celebrations with Concert
The patriotic celebrations continued on September 21 at Central Park with a musical concert under the auspices of the Ambassador and people of El Salvador.  "I am having a dejavu, a flashback into San Pedro's past when in the 1930's San Pedro boasted La Banda de San Pedro with thirty odd musicians," commented Emcee Angel Nunez, as he introduced the 64-member military symphony of El Salvador.
The two-hour extravaganza included a grand repertoire of themes of several movies and compositions of renowned composers like Agustin Lara, Ray Conniff, and selections from Abba, The Beatles and Rocky. The delighted audience was just one step from getting up and dance and applauded over generously to the visiting musicians. A packed Central park enjoyed this show for two hours, a gift from Belize Ambassador to El Salvador, Her Excellency Celi Paz.