On Saturday, October 26, 2019 the Belize Audubon Society hosted the annual BAS-coined event, 'Urban Bird Watch', at the BAS Main Office in Belize City.  The Urban Bird Watch is a free annual BAS event, celebrating its 10th year in 2019, held in every major constituency alongside community members of all ages to bring a greater awareness of birds in our urban environment and spark interest in bird watching. At 6:00am, a brief welcome was given to Belize City's Urban Bird Watch 2019 by Conservation Director, Ms. Dominique Lizama, to the ~80participants that consisted of BAS Members, Scout Association of Belize Members, SCA Bird Club Members, Tour Guides, and other guests.
Following the Urban Bird Watch at 8:30 am, a small ceremony was  held in the backyard of the BAS  Main  Office  in  Belize  City  to  launch  the  newest  badge  of  the  Scout  Association  of  Belize  for "Bird watching Proficiency". In partnership with the Scout Association of Belize and the Belize Audubon Society, the Bird watching Proficiency Badge will bring awareness of birds in our natural environment while equipping vying Scouts with future life skills. Agenda items of the short ceremony led by Environmental Education Director, Ms. Dareece Chuc, included remarks from BAS Board Director, Mr. Francis Canto Jr. and National Scout Executive of the Scout Association, Mr. Roberto Lopez; signing of the MOU by both partners; unveiling of the badge; and an honorary pinning.
Belize Audubon Society looks forward to a continued partnership with the Scout Association of Belize and thanks all participants for joining us to celebrate the 10thAnniversary of Urban Bird Watch and the new Bird watching Proficiency Badge.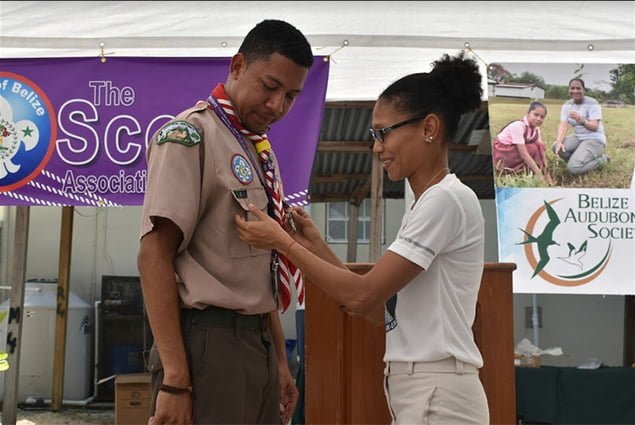 Click Here for More Ambergris Today News Online