San Pedro has long been a popular destination for travelers seeking sun, sea, and adventure; it's no wonder that tourism in the region has been steadily growing. As the number of visitors increases, so does the demand for knowledgeable and trained tourist guides to provide an enriching experience to travelers. Recognizing this need, the Belize Tourism Board (BTB) and the San Pedro Tourist Guide Association took proactive steps to address the surge in tourism by certifying 52 new tourist guides.
The certification ceremony took place on August 1, 2023, and it was a momentous occasion for the individuals who have spent countless hours honing their skills and knowledge to ensure tourists have the best possible experience on the island.
A special mention and heartfelt gratitude went to BTB trainer Philip Leslie, whose dedication and expertise have contributed significantly to the successful training of these new tourist guides. His commitment to providing high-quality training has undoubtedly made a lasting impact on the future of tourism in San Pedro.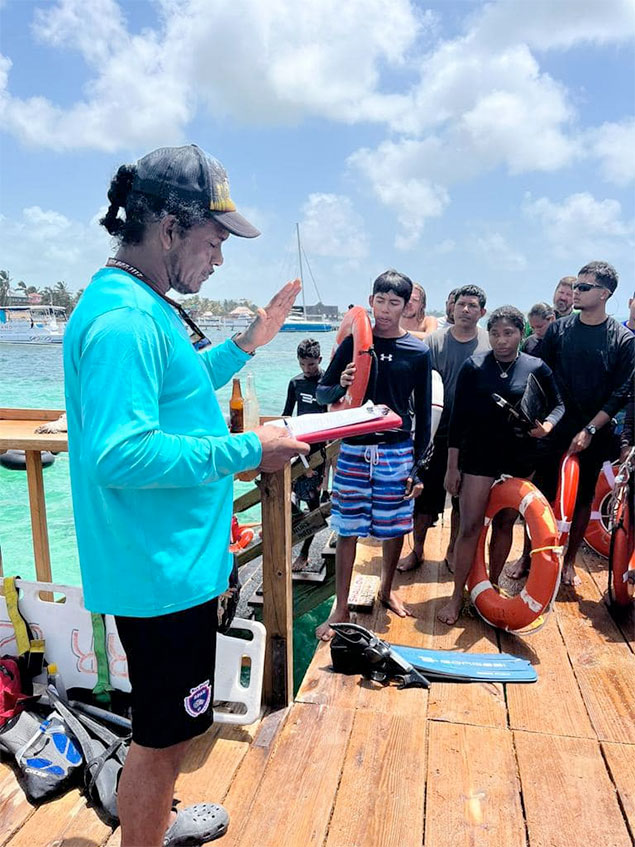 The certification program covered a wide range of topics, including local history, ecology, wildlife conservation, cultural heritage, safety protocols, and customer service. The participants were also trained in techniques to effectively engage with visitors, catering to their diverse interests and preferences. As tourism continues to evolve, it's essential for tourist guides to be well-versed in sustainable practices and responsible tourism to ensure the long-term preservation of Ambergris Caye's natural beauty and cultural heritage.
Among the 52 newly certified tourist guides, eight individuals stood out as the top performers in their class. Their exceptional dedication and commitment to mastering their craft earned them a well-deserved spot among the top achievers:
Jorge Aldana
Jerrilee Garcia
Cyle Leonardo
John Forman
Blake Jonas
Roberto Tamai
Christian Osgalla

Errington Chi
As these newly certified tourist guides step into the industry, the future of tourism in San Pedro, Ambergris Caye, looks promising. Their diverse skills, combined with a deep love for their homeland, ensure that visitors will have a rewarding and unforgettable experience. The Belize Tourism Board and the San Pedro Tourist Guide Association's efforts in training and certifying these individuals demonstrate a commitment to sustainable tourism and responsible practices that preserve the island's natural wonders for generations to come.
Congratulations to the 52 new tourist guides, and a special acknowledgment to the Top 8 of the class! Their contributions will undoubtedly play a vital role in shaping the future of tourism in this beautiful corner of Belize. So, whether you're an adventure-seeker, a history enthusiast, or someone simply seeking a relaxing beach vacation, rest assured that these certified guides will be there to welcome you to San Pedro, Ambergris Caye, with open arms and a wealth of knowledge to share.