The Belize Tourism Board hosted its annual Belize National Tourism Awards Gala on Sunday, October 22, 2023, in Belize City. This signature event celebrated and acknowledged the outstanding achievements and excellence of the tourism industry's top performers in 2023.
Two businesses from San Pedro, Ambergris Caye were honored among 12 other award recipients for this year, they are Mambo Restaurant at Matachica Resort & Spa for Restaurant of the Year and Scuba School and Family Dive Center for Tour Operator of the Year. Congratulations to our island friends receiving this prestigious award.
Mambo Restaurant at Matachica Resort and Spa, Restaurant of the Year
Scuba School and Family Dive Center, Tour Operator of the Year
Distinguished attendees at the gala included Hon. Anthony Mahler, Minister of Tourism and Diaspora Relations, government officials, members of the diplomatic corps, industry partners, as well as nominees and winners. In her remarks, Director of Marketing & Communications, Mrs. Michelle Bowers-Flowers, expressed her appreciation for the industry's exceptional accomplishments and continued support and partnership.
The event was marked by excitement as excellence in twelve categories was acknowledged. These are: Frontline Person of the Year, Tour Guide of the Year, Tour Operator of the Year, Site of the Year, Restaurant of the Year, Small Accommodation of the Year, Hotel of the Year, Green Champion of the Year, Health and Wellness Provider of the Year, Cultural Experience of the Year, Minister's Award, and Lifetime Achievement Award. Special recognition was also extended to Atlantic Bank for their outstanding and unwavering contribution to the growth and development of Belize's tourism industry.
The winners were carefully selected by a panel of judges, which included Mr. Kevin Geban, Ms. Karen Vernon, Chef Rob Pronk, Mr. Einar Marin, and Mr. Jamal Galvez. The list of winners for 2023 is presented below:
Throughout this year, Belize has received recognition in multiple international publications, garnered numerous international travel awards, and recently featured a captivating destination video in New York's Times Square. These accomplishments and more have propelled Belize to the forefront of travelers' minds.
The BTB says it extends its gratitude to our industry partners for their dedicated efforts in advancing tourism in Belize and extends heartfelt congratulations to all the winners as well as the nominees for their exceptional service and dedication to promoting and enhancing Belize's tourism offerings.
Special Recognition to Atlantic Bank Ltd.
Blancaneaux Lodge, Green Champion of the Year Award
The Hilltop Spa at Chaa Creek, Health and Wellness Provider of the Year Award
Dahlia Castillo, Liftetime Achievement Award
Habinahan Wanaragua/Dance Jonkunnu, Cultural Experience of the Year Award
Larry Leslie, Frontline Personnel of the Year Award
Naia Resort and Spa, Hotel of the Year Award
Nedia Chaplin, Tour Guide of the Year Award
Rosella Zabaneh, Minster's Award
Alma Del Rio, Small Accommodation of the Year Award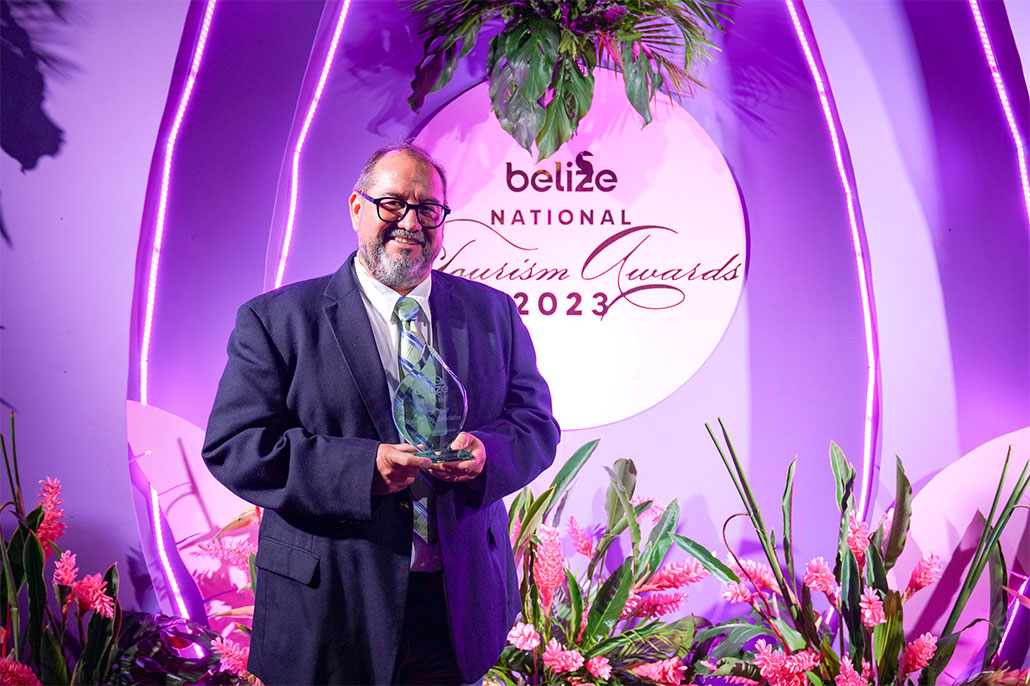 Turneffe Atoll Sustainability Association, Site of the Year Award